Dina Asher-Smith cruised to her second European Athletics Championships title on Monday evening, with the Briton setting a new National Record in a dominant performance in the Olympiastadion to take the 100 meter title.
Asher-Smith won the 200 meter title in Amsterdam two years ago, in what was her first major title, though, against a stronger field, this victory will surely prove more sweet for the Brit, who is starting to hit her stride with a 10.85 second run in Berlin.
Asher-Smith storms to the title ahead of Luckenkemper and Schippers
After a season which has seen her break the national record prior, the 23-year old was the big favorite for the title coming in, and she did not disappoint in what was her first major final at this distance.
A 10.93s run in the semifinal secured her position as the favorite going into the final, though many expected the defending champion and World and Olympic medalist Dafne Schippers, as well as home favorite Gina Luckenkemper, to push her in the final; it would be those three who claimed the medals.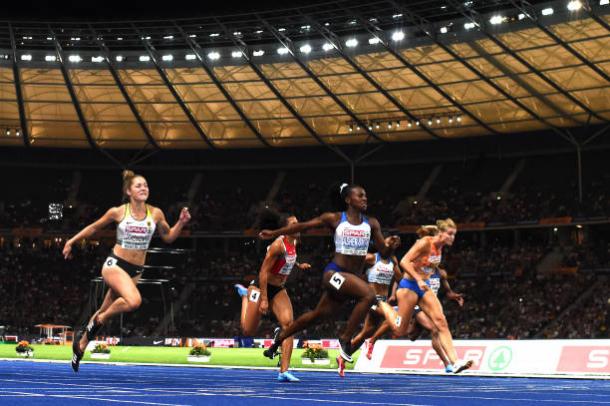 When the race started, Asher-Smith started incredibly quickly and stayed in complete control of the final throughout, never looking in danger as she stormed to victory. Luckenkemper, who also started well, could not match the Brit's pace but held firm to claim an impressive silver medal at her home championships, fending off the charge of Schippers who ran a season best time of 10.99 to take Bronze.
Asher-Smith will be in action in just a few days time when she takes part in the 200 meters, where she will look to defend to her title against Schippers, who is the two-time World Champion at this distance; it could prove to be one of the duels of the event.
Final Standings
Gold- Dina Asher-Smith (10.85s)
Silver- Gina Luckenkemper (10.98s)
Bronze- Dafne Schippers (10.99s)
Fourth- Mujinga Kambundji (11.05s)
Fifth- Jamile Samuel (11.14s)
Sixth- Imani Lansiquot (11.14s)
Seventh- Caroline Zahl (11.20s)
Eighth- Orlann Ombissa-Dzangue (11.29s)