Zharnel Hughes narrowly captured his first major title at the European Athletics Championships on Monday evening, with the Brit edging past his compatriot Reece Prescod to take the gold medal in Berlin.
Before the race, the final was blown wide open by the withdrawal of Frenchman Jimmy Vicaut. The joint-fastest European of all time, Vicaut had set a Championship Record of 9.97 seconds in his semifinal, though was forced to pull out of the final due to injury.
In his absence, it was Hughes who took advantage, not disturbed by the empty lane next to him as a run of 9.95 seconds saw him break the Championship Record Vicaut set just a couple of hours earlier.
Hughes edges out Prescod in British 1-2
With Vicaut, who would have likely been the favorite heading into the final, out, there was undoubtedly a huge opportunity for all the men left, and it was Hughes who took it.
The Brit impressed in his semifinal, with a time just outside ten seconds seeing him qualify second-fastest for the final, and it was him who would eventually take charge of the race, even if he did have to hold on in the end.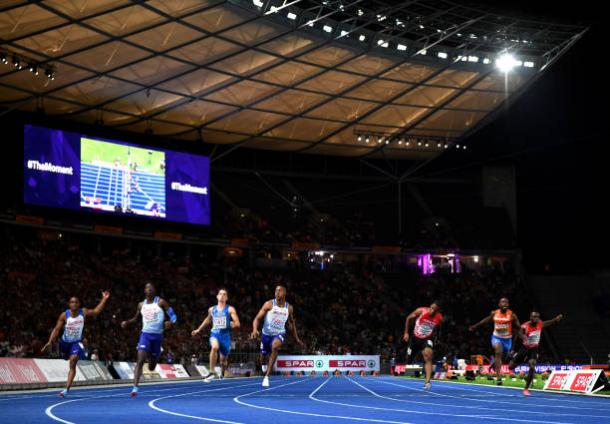 No one in the field got off to an amazing start, though Hughes got out of the blocks comfortably and edged his way to the front ahead of Jak Ali Harvey. Prescod, who started fairly poorly, came back quickly and was able to overtake the Turkish athlete, though fell narrowly short of his compatriot as he had to second for silver by just one-one hundredths of a second.
Final Standings
Gold- Zharnel Hughes (9.95s)
Silver- Reece Prescod (9.96s)
Bronze- Jak Ali Harvey (10.01s)
Fourth- CJ Ujah (10.06s)
Fifth- Filipo Tortu (10.08s)
Sixth- Churandy Martina (10.16s)
Seventh- Emre Zafer Barnes (10.29s)
DNS- Jimmy Vicaut