The Hammer Throw kicked off an action-packed evening at the famous Olympiastadion in Berlin for the first official evening of the Athletics European Championships.
Britain's Nick Miller was hoping to add another medal to his Commonwealth Gold he achieved earlier In Australia. However, the Pole's were the heavy favorites with Pawel Fajdek and Wojciech Nowicki qualifying in the top 4 places. Also in the hunt was Hungary's Bence Halasz and Belarus' Pavel Bareisha who also qualified in the top four.
The Polish men didn't disappoint as they came out one-two on the podium with Wojciech Nowicki taking home the gold with a throw of 80.12m ahead of team-mate Fajdek who threw 78.69m and Hungary's Halasz who managed 77.36m to bring home the bronze. Nick Miller finished down in tenth with his only throw of 73.16m.
Poland begins the European Championships with a bang
Poland's Fajdek set down an early marker following his first attempt at 78.69m which put him in the first position. His team-mate Nowicki could only throw 77.19m to land the second spot while Halasz threw 77.15m to narrowly put him behind the Polish athlete.
Fajdek and Halasz then fouled their next three attempts while on his second, Nowicki took the lead with a throw of 80m, followed by 80.12m on his third throw. Down in fourth in the competition was Norway's Eivind Henriksen who threw 76.86m with his third throw to gain a National Record. Britain's Nick Miller bowed out in tenth place with two fouls following a throw of 73.16m.
Nowicki produced his first foul of the final on his fifth throw but managed to stay in the gold medal position with Fajdek unable to better his score. Halasz the third placed athlete improved his score to 77.36m on his fifth throw but couldn't climb any higher. Norway's Henriksen stayed in fourth with a decreased throw of 74.58m followed by another throw of 75.89m.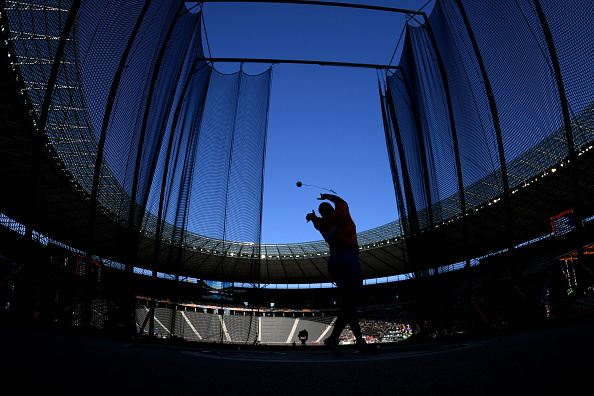 Into the final round of throws saw Nowicki failing to increase his lead while Fajdek couldn't better his compatriot's score leaving the Polish athletes looking on. Halasz fouled on his sixth and final attempt while Belarus' Pavel Bareisha threw 77.02m to leap ahead of Henriksen into fourth. This meant that Nowicki and Fajdek took home gold and silver for Poland with Halasz taking the bronze. Henriksen finished in fifth with a National Record.
Down in the sixth place was Belarus' Ivan Tikhon who recorded a season's best throw of 75.79m. Hlib Piskunov finished in seventh, Serghei Marghiev in eighth place, Mihail Anastasakis finished in ninth, and as mentioned earlier Nick Miller finished in tenth with Marcel Lomnicky and Denis Lukyanov finishing down in 11th and 12th in the final.