World Champion Ramil Guliyev stormed to the 200 meters title at the European Athletics Championships title on Thursday, with the Turk cruising past the rest of the field with a storming second half of the race to take gold.
Despite having won gold at the World Championships in London last season, Guliyev has arguably not received the credit he deserved over the past 12 months, though after a strong start tonight stormed to victory in a new Championship Record of 19.76 seconds, well ahead of the likes of Nethaneel Mitchell-Blake of Britain and Alex Wilson of Switzerland, who claimed the minor medals.
Guliyev cruises to maiden European title in Berlin
Before the final Guliyev was certainly the favorite considering his form over the past year or so, though very few would have predicted that his victory would be so emphatic.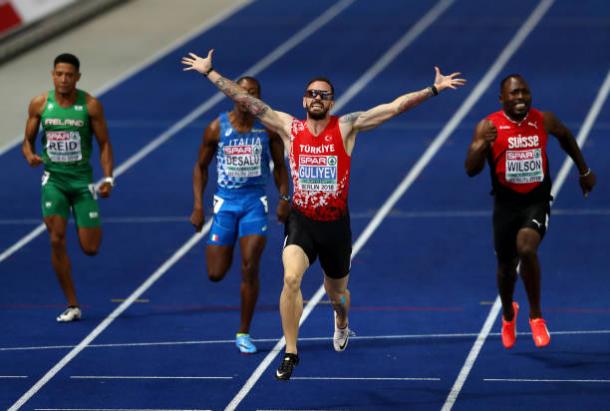 All the men in the field got off to good starts, with the three eventual medalists up there early on along with the likes of defending champion Bruno Hortelano and Adam Gemili, who won the title in Zurich four years ago, though coming round the bend it was the Turk who began to look the strongest.
After that strong bend, Guliyev quite simply pulled away from the rest of the field, cruising to the title in one of the best victories of his career, though there was a real battle behind him, with Mitchell-Blake narrowly edging out Wilson as they took the silver and bronze medals; their first individual medals at an outdoor championships.
Final Standings
Gold- Ramil Guliyev (19.76s)
Silver- Nethaneel Mitchell-Blake (20.04s)
Bronze- Alex Wilson (20.04s)
Fourth- Bruno Hortelano (20.05s)
Fifth- Adam Gemili (20.10s)
Sixth- Eseosa Desalu (20.13s)
Seventh- Leon Reid (20.37s)
Eighth- Solomon Bockarie (20.39s)