Poland's Adam Kszczot captured his third consecutive 800m crown at the European Athletics Championships on Saturday night, with the two-time world medalist holding of the likes of Andreas Kramer and world champion Pierre-Ambroise Bosse to win the title.
Kszczot narrowly failed to take the gold at the World Championships last summer, with Bosse capturing his first major title with an impressive run in London 12 months ago, though the Pole was too good for the rest of the field, with a storming last 200 meters seeing him claim gold in a winning time of 1:44.59, with Kramer in second and Bosse settling for third.
Masterful Kszczot storms to third consecutive 800m gold
Before the final it was widely seen that the battle for gold was between Kramer, Bosse, and Kszczot, with those three being ahead of the rest of the field in terms of times and success. It was the Swede who went straight to the front as the runners exited their lanes after 200 meters, though heading into the final lap, Bosse moved from the back of the field to the front, with the Pole quickly tracking him.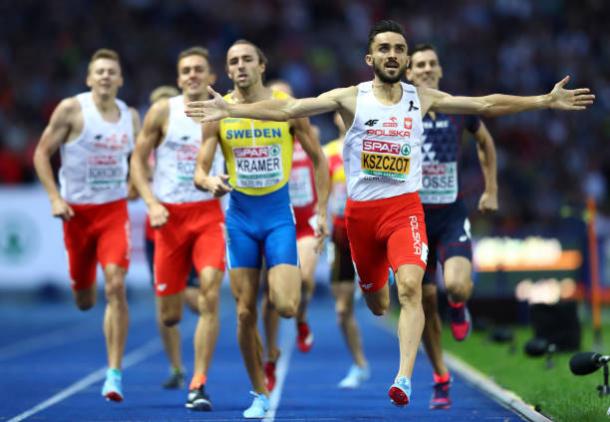 Bosse employed similar tactics in his successful quest for the world title last summer and lead up until 200 meters to go, where Kszczot overtook him round the bend. The Pole then began to pull away, with only Kramer being able to track him, though the Swede was unable to stop the defending champion winning the title for a third time, with Kramer taking second spot and Bosse narrowingly holding off the charges of Michal Rozmys and Mateusz Borkowski to take the bronze medal.
Final Standing
Gold- Adam Kszczot (1:44.59)
Silver- Andreas Kramer (1:45.03)
Bronze- Pierre-Ambroise Bosse (1:45.30)
Fourth- Michal Rozmys (1:45.32)
Fifth- Mateusz Borkowski (1:45.42)
Sixth- Andreas Bube (1:45.92)
Seventh- Alvaro de Arriba (1:46.41)
Eighth- Lukas Hodbod (1:46.60)