Dina Asher-Smith continued her fast rise up to the sprinting elite on Saturday evening, with the Brit setting a new British record and becoming the first women this season to run under 22 seconds this year to secure the short sprint double at the European Athletics Championships.
Just a few days ago, Asher-Smith had set a joint world lead in the 100m as she cruised to the title there, and she showed no let up in what was her first attempt at defending a global title, storming to victory in a time of 21.89 seconds, ahead of two-time world champion Dafne Schippers in second and Jamile Samuel in third.
Asher-Smith sets field alight to defend 200m title in Berlin
Asher-Smith had captured her first ever global title at these championships two years ago in Amsterdam, though that was against a weaker field than this, and she showed just how much she had improved with another wonderful victory today.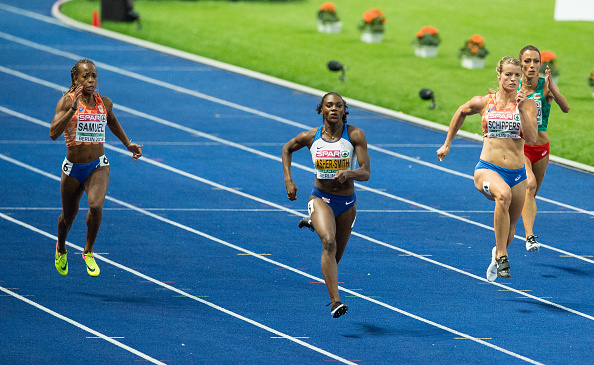 The Brit got off to far the strongest start of anyone in the field, passing Samuel with ease round the bend, and cruised into the home straight. It looked as if Schippers, who always improves in the final 100m and is the third-fastest women in history over this distance, could chase down the Brit, though Asher-Smith proved too strong and stormed to victory, with Schippers settling for silver and Samuel taking Bronze.
Final Standings
Gold- Dina Asher-Smith (21.89s)
Silver- Dafne Schippers (22.14s)
Bronze- Jamile Samuel (22.37s)
Fourth- Mujinga Kambundji (22.45s)
Fifth- Ivet Lalova-Collio (22.82s)
Sixth- Bianca Williams (22.88s)
Seventh- Beth Dobbin (22.93s)
Eighth- Laura Muller (23.08s)