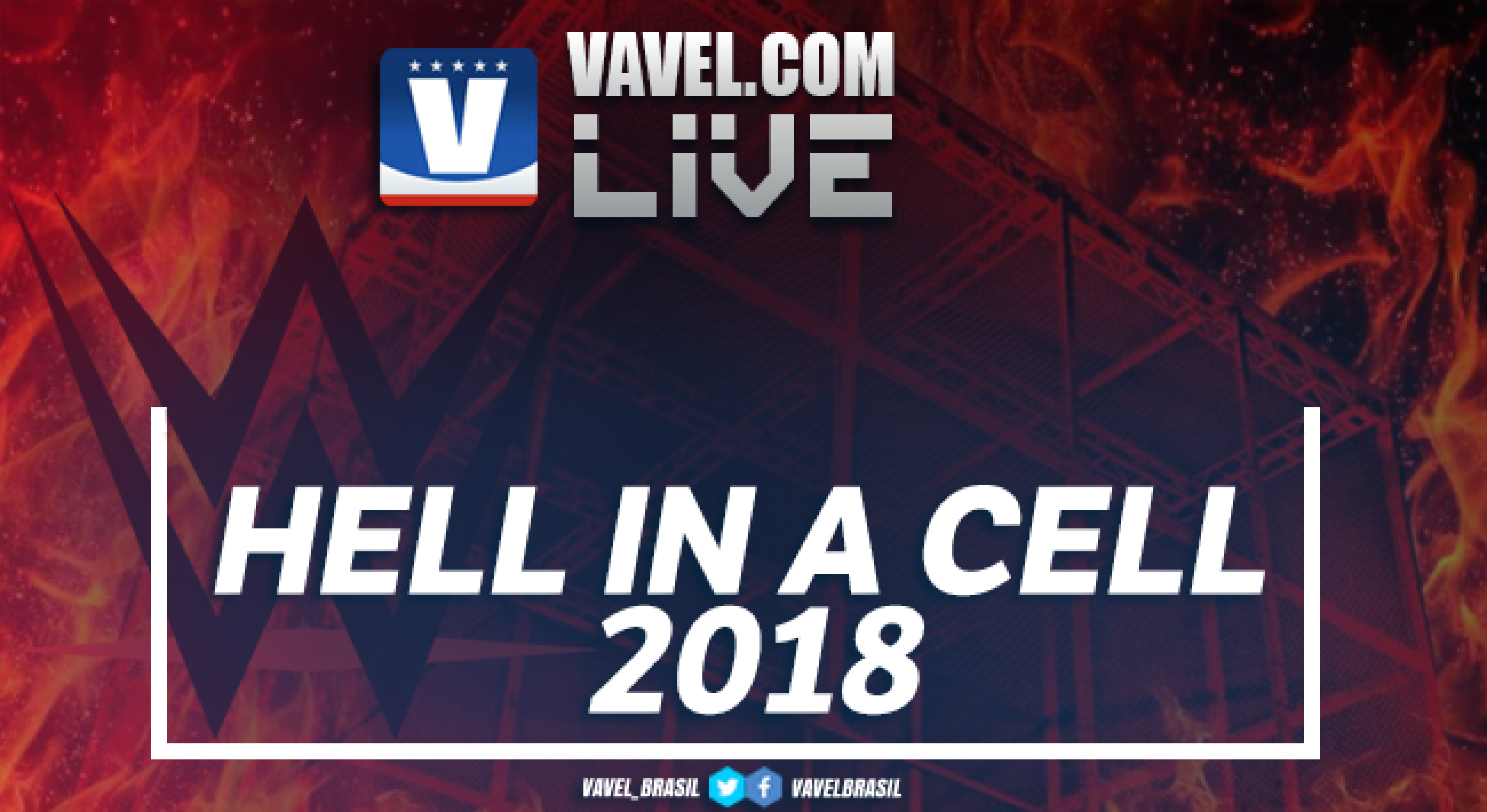 That concludes this year's WWE Hell in a Cell. Tune in to VAVEL Wrestling for more updates. You can also check the live recap of the entire show right here.
​22:41 Lesnar leaves the cell, a new official goes down and calls the match off as both competitors could no longer be able to compete.
22:39 Lesnar kicks open the cell door and beats both Reigns and Strowman with anything he could get his hands on then proceeds to hit both competitors with an F5. (Paul Heyman sprayed Mick Foley's eyes with some substance rendering him unable to officiate)
22:38 OH MY GOD IT'S BROCK LESNAR!
22:37 AND THEY BOTH CRASH DOWN TO THE ANNOUNCE TABLES!
22:36 Now Rollins and Ziggler take the fight at the side of the cell. "This is not gonna end well," according to Corey Graves.
*meanwhile in the ring, both competitors are still down
22:34 McIntyre follows the action atop the cell while Ambrose brings a kendo stick and unleashes on Ziggler and McIntyre
22:33 Ziggler and Rollins fighting on top of the cell!
22:31 Interferences arrive! Dolph Ziggler and Drew McIntyre attempt to enter but Seth Rollins and Dean Ambrose come to the rescue of their SHIELD brother.
22:31 Reigns with a series of superman punches again followed by a spear through a table set on the corner. Strowman kicks out in two as well.
22:29 Strowman with a running powerslam but Reigns kicks out at the two-count.
22:28 Reigns went charging but Strowman nailed the champion with the steel steps.
22:27 "Roman would have to dig down deep and find heavy artillery if he wants to keep Strowman down" - Corey Graves on commentary
22:26 The champion is searching for weapons but if history indicates, the challenger never stays down at all.
22:25 Reigns finally manages to get Strowman to drop after numerous superman punches.
22:21 A swordfight of Kendo Sticks Ensues!
22:19 It didn't take long for the action to spill out of the ring as Strowman tackles Reigns to the cell.
22:17 Strowman snatches the title but Reigns answers by decking the challenger with a right hand.
22:13 Braun Strowman enters to a sea of cheers while Roman Reigns enters in a chorus of boos. Irony at its finest!
Roman Reigns vs Braun Strowman for the Universal Championship inside Hell in a Cell UP NEXT!
22:03 Samoa Joe shows referee in a backstage segment a footage angle showing AJ Styles tapping out in their title match earlier. Paige informs Joe that he will receive a rematch at WWE Super Show-Down.
21:58 Momentum suddenly shifts as Rousey unleashes, slams her opponent and locks her in an armbar. Bliss taps immediately, Rpusey retains.
21:57 Bliss tries to continue maintaining control but Rousey's expression changes as she suddenly gets fired up.
21:55 Double cross body. Both women collide with their midsections. Ronda seemed to take more damage due to her bad ribs.
21:54 Rousey seems hurting from weeks of assault by Bliss and company.
21:52 Moral support seems to work for Bliss as she is currently holding her own compared to their first encounter.
21:47 Ronda Rousey means business as Natalya accompanies her ringside. Match starts!
21:46 Alexa Bliss goes down to the ring with Mickie James and Alicia Fox. Those three are en fuego!
UP NEXT: Ronda Rousey vs Alexa Bliss for the Raw Women's Championship
21:36 Brie Bella uses Maryse to throw Miz outside the ring but happens to cause a distraction. Maryse with a roll up 1-2-3! Miz and Maryse win!
21:35 Daniel Bryan and Brie Bella hit Miz and Maryse with a couple of YES! Kicks.
​21:34 BRIE MODE!
21:33 Bryan throws Miz out of the ring followed by a tag to his wife for the mandatory switch. Miz quickly goes to the aid of his wife but Brie Bella unleashes on him.
21:31 Both men exchanging blows on the top of the turnbuckle.
21:29 Daniel Bryan and The Miz continue to go back and forth inside the ring as both wives cheer outside.
21:28 Maryse tries to get involved. Brie Bella chases her around the ring but
21:25 The Miz with his usual mind games. Maryse with her own as well.
21:23 Maryse taunts Brie Bella but quickly tags her husband in for the mandatory switch.
21:21 Miz and Maryse each go out on their own entrance before entering the ring together. So do Daniel Bryan and Brie Bella.
21:15 Charly Caruso interviews The Miz and Maryse backstage. The A-List couple call their opponents "irrelevant losers."
UP NEXT: The Miz & Maryse vs Daniel Bryan & Brie Bella in a Mixed Tag Match
21:11 Joe seems irate but it costs him as Styles manages to hit him with a Pele Kick as Joe was proclaiming himself the as the rightful winner.
21:10 Samoa Joe locks in the Coquina Clutch but AJ Styles rolls over for a pin while locked in the hold. 1-2-3! The champion retains!
21:07 AJ Styles with a springboard 450 splash but Joe kicks out at 2.
21:03 Joe counters an aerial maneuver of AJ and locks the champion into a crossface.
21:02 Both competitors prefer to be methodical as they try to dish out damage from certain points necessary.
20:54 Joe ragdolls AJ outside the ring then proceeds to throw him inside for the cover but AJ kicks out at the two-count.
20:50 Both competitors look to pick up where they left off in Brooklyn. Fans chant "AJ Styles" but Samoa Joe seems unaffected.
AJ Styles vs Samoa Joe for the WWE Championship
20:38 Rollins tags in, suplexes Ziggler but McIntyre hits Rollins with the Claymore Kick in the process. Ziggler covers 1-2-3! Champs retain!
20:35 A series of counters from Rollins and Ziggler, Ambrose and McIntyre get involved, throw themselves out. Ziggler capitalizes with a zigzag 1-2-Rollins kicks out!
20:32 Bodies flying everywhere!
20:30 Here comes Ambrose!
20:28 Rollins tags in but wait! Referee didn't see it! Ambrose complains as the tag team champions take advantafe and beat up Rollins
20:26 Rollins creates space. Looks to tag in but McIntyre pulls Ambrose to deny Rollins a tag
20:25 "Come on! Do something!" Dolph Ziggler to Seth Rollins
​20:19 Drew McIntyre tags in, asks for Dean Ambrose.
​20:17 Seth Rollins and Dolph Ziggler open the match
20:15 Dean Ambrose looking better and better physically since his return.
20:14 BURN IT DOWN!
Dolph Ziggler & Drew McIntyre vs Seth Rollins & Dean Ambrose for the Raw Tag Team championship
20:04 Charlotte attempts a spear, Becky Lynch counters with a pin 1-2-3! WE HAVE A NEW SMACKDOWN WOMEN'S CHAMPION!
20:01 Charlotte Flair follows with a moonsault but nobody home
20:00 Charlotte Flair with a series of chops. Wooooo! Wooooo! Wooooo!
19:58 Lynch slams Flair's shoulder onto the ring apron
19:57 "This match has taken a tremendous toll on both competitors already" - Tom Phillips on commentary.
19:52 Becky Lynch avoids the Figure Four, Charlotte Flair avoids the Disarmer as both fighters keep the fight on the mat in the opening moments.
19:48 Becky Lynch looks focused while Charlotte Flair manages to still put on a smile
Charlotte Flair vs Becky Lynch for the SmackDown Women's Championship
AJ Styles backstage interview
19:39 Hardy now being stretchered out.
19:37 Doctors are now attending to Hardy
19:36 Orton clears the rubble. 1-2-3! Orton wins! Hardy is DONE!
19:35 Hardy lands hard on an empty table after Orton moves out at the last moment.
19:34 What is hardy going to do?
19:30 Twist of Fate! Swanton Bomb! 1-2-Orton kicks out!
19:28 Hardy manages to escape the torture and unleashes on Orton with pieces of his own belt. The Viper's back is bleeding!
19:24 Hardy finds the energy to rally back.
19:22 Orton continues to dish out punishment with anything he could get his hands on.
19:20 Orton attempts a pin. Hardy kicks out on 2!
19:16 Orton with a superplex on Hardy
19:13 and now A LADDER!
19:12 Hardy brings a Table into play
19:10 Hardy wastes no time and rushes for Orton
19:09 Jeff Hardy and Randy Orton try to get in each other's heads as they prepare to get locked up inside Hell in a Cell
19:06 The cage is now being lowered for Randy Orton vs Jeff Hardy opening the show
Randy Orton vs Jeff Hardy (Hell in a Cell Match)
19:05 WE ARE LIVE!
19:00 WWE HELL IN A CELL MAIN SHOW IS STARTING!
Kickoff show wraps up...
Roman Reigns vs Braun Strowman match preview
Baron Corbin interrupts Foley talking about his first PPV as Raw General Manager
Mike Rome interviews Mick Foley on his take on tonight's main event.
We return to the kickoff panel with a recap of the earlier match previews
Rusev Day disappointed with the outcome of their efforts...
Kofi hits the trouble in paradise. 1-2-3! NEW DAY RETAINS! #AndStill
Miscommunication leads into a turn of events for Rusev Day
Aiden English locks in the Accolade on Kofi Kingston
Bodies flying everywhere!
Rusev and Big E match power for power!
Aiden English and The New Day have a sing-off.
The New Day cut a promo on back to school season
First kickoff match: The New Day vs Rusev & Aiden English
UNDERTAKER