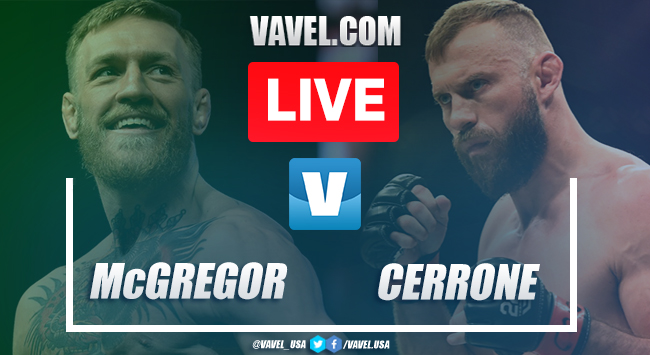 Bruce Buffer makes it official
Another quick victory for McGregor
The bout is over! The 'Notorious' defeats the 'Cowboy'
The main event of the night starts!
After being out for over a year, McGregor officialy returns to a UFC octagon!
The first fighter is in the scene
The wait is over!
We are just minutes away for the main event of the night!
Holly Holm defeats Pennington in the cards for the second time
Holm and Pennington go to the decision!
Conor McGregor looks so focused for tonight's bout
Fourth fight up next!
Submission! Aleksei Oleinik taps out Maurice Greene
McGregor Billionaire Walks his way to the T-Mobile Arena
The third fight is on!
Submission! Brian Kelleher taps out Ode Osbourne in the first round
We're onto the next match
Submission! Diego Ferreira taps out Anthony Pettis
Pettis and Ferreira open the show
We are into the main card!
'Cowboy' has arrived to the arena!
Not affraid of any numbers
Almost there!
Keeping the distance
Conor McGregor looks confident towards his UFC return
Can the Irish fight hard during 5 rounds?
Do not give up on the Cowboy!
Who you got?
LIVE Coverage Begins!
McGregor can not wait to battle Cerrone
Cerrone does not listen to the numbers
A respectful face-off
The Official Weigh-Ins
McGregor's background
Cerrone's background
McGregor, the favourite