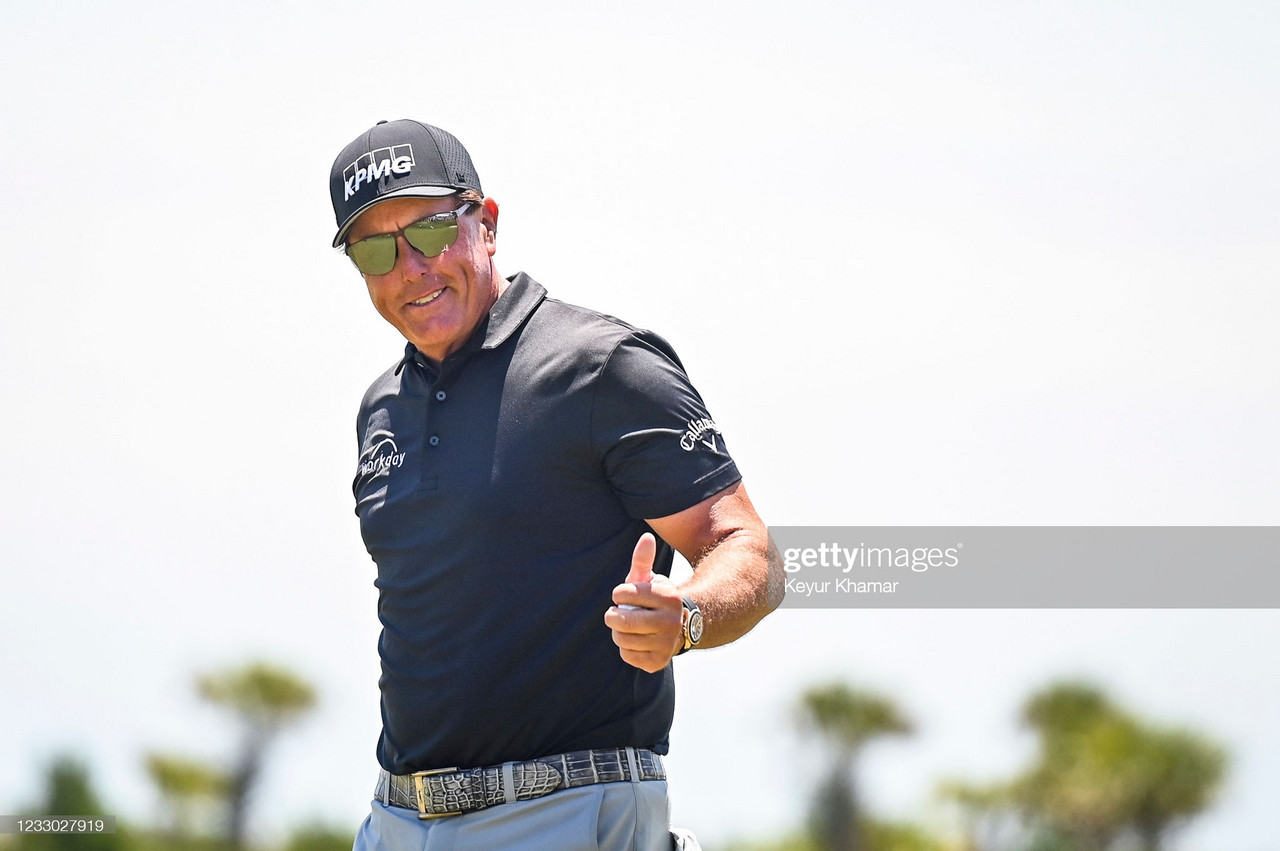 36 holes are in the books at the PGA Championship at the Ocean Course at Kiawah Island with 50-year old Phil Mickelson and Louis Oosthuizen tied for the lead at 5-under par.
Two-time PGA champion Brooks Koepka is just one behind the leaders with a group of golfers, led by Masters champion Hideki Matsuyama, at three under.
Lefty tied for the lead through two rounds, seeks more golf history
Mickelson, seeking to become the oldest major champion, started on the back nine and went out in 38, birdieing 11, but bogeying 17 and 18.
Coming home in 31, Mickelson made five birdies on the second, fourth, fifth, seventh and a 25-footer on the ninth, his last hole of the day.
"I'm having a lot of fun, and to play well, to know I'm playing well heading into the weekend, to be in contention, to have a good opportunity, I'm having a blast", the lefty, who would be the oldest major champion ever, said. "I'm excited for the weekend. This has been a lot of fun.
"Physically I feel like I'm able to perform and hit shots that I've hit throughout my career, and I feel like I can do it every bit as well as I have, but I've got to have that clear picture and focus. So these first two days have been much better."
Oosthuizen, the 2010 British Open champion, fired a 68 and was bogey-free until the 18th, when he dropped his only shot of the day to fall into a tie with Mickelson for the lead.
"Drove it as good as I can drive it, and ball-striking was pretty good with the irons", he said. "With really windy conditions, you need that ball-striking to be on song. Hitting around 13 or 14 greens in these conditions is pretty good.
"It would be great to get a second major. There's a lot of golf left, and I just feel whenever I get to a major, I sort of have my game where I want to have it, and mentally I feel very strong at a major week."
Notables to miss the cut
Among those who won't be around to play the weekend are world number one Dustin Johnson, Sergio Garcia, Adam Scott, Marc Leishman, Xander Schauffele and Justin Thomas, who finished at six-over.
Former champion Rich Beem, as well as Tommy Fleetwood were at seven-over while Jason Dufner and Martin Kaymer both finished at eight-over.