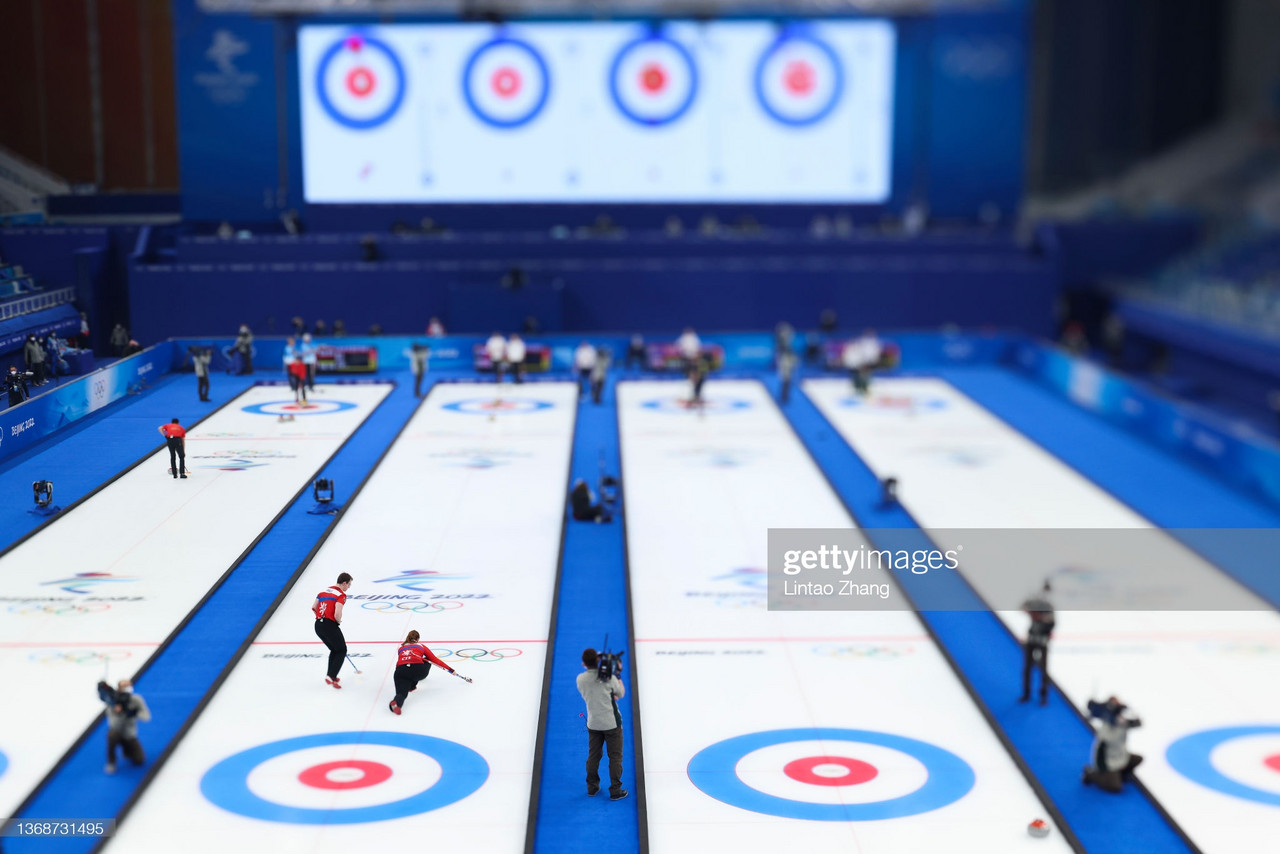 The mixed doubles curling tournament returned with a full session of four games as Team USA, Great Britain, Sweden and Italy chalked up victories. Norway and Switzerland had the session off.
Here's a recap of all of the action from Beijing.
In an exciting and close affair, Vicky Persinger and Chris Plys picked up a critical win for Team USA (3-2) on Sheet A as they remained on course for the playoffs.
A back-and-forth first half of the game saw the teams tied 3-3 after four ends. Persinger and Plys opened up a 6-3 lead after scoring three in the fifth.
Fan SuYuan played a perfect nose-hit for two to reduce the Americans' lead to 6-5, but Persinger's hit in the seventh gave Team USA a two-point lead and the win.
"They were right there", Plys said of SuYuan and Ling Zhi. "They got us in trouble a few times and managed to make a couple of good ones to get out of trouble.
"They are a good curling team. We just made a couple of big shots."
Reigning world champions Jennifer Dodds and Bruce Mouat had little trouble securing another victory, improving their record to 4-1 on Sheet B.
The Brits dominated from the outset, scoring twice in the second and stealing three in the third when an attempted takeout by Zuzana Paulova just ticked its intended stone and made it 5-1.
Dodds and Mouat led 6-3 after seven and they completed the victory with two more in the eighth, moving into third place in the standings.
"We figured out draw weight a lot earlier than we normally have", Mouat said. "That was probably the biggest thing for us. Also, we played a really good game throughout this time."
Sweden 6, Canada 2 (6 ends)
Almida De Val and Oskar Eriksson continued their fine play as Sweden improved to 5-2 on Sheet C.
Sweden stole single points in the first two ends. In the third, Rachel Homan failed on an angle raise and Canada had to settle for just one point.
Some good work to set up a multiple-point end was capped off when De Val perfectly executed a draw for three to give Sweden a 5-1 advantage.
The two teams traded points in the fifth and sixth before Homan and John Morris conceded to drop the Canadians to 3-2.
"I'm happy with our performance today, making a lot of shots and making it tough for our opponents", Eriksson said. "That's the key to mixed doubles. It's tough to make every shot, so just put the pressure on."
Italy 7, Australia 3 (7 ends)
On Sheet D, leaders Italy remained unbeaten with a comfortable victory over winless Australia (0-7).
Tahli Gill and Dean Hewitt stole a point for the Aussies in the opening end, but the Italians picked up two in the second and stole one in the third when Gill caught a front guard with her final stone.
It was a 4-3 game when Stefania Constantini, the best player in the tournament, executed a picture-perfect draw for three points in the seventh end as Australia conceded.
"You can't play 100 percent all of the time", Constantini said as she and Amos Mosaner improved to 5-0. "The important thing is to be able to deal with what is happening and managing the scoreboard.
"I think the seventh end was very important where we managed to keep a big gap of four points to relax for the last end."