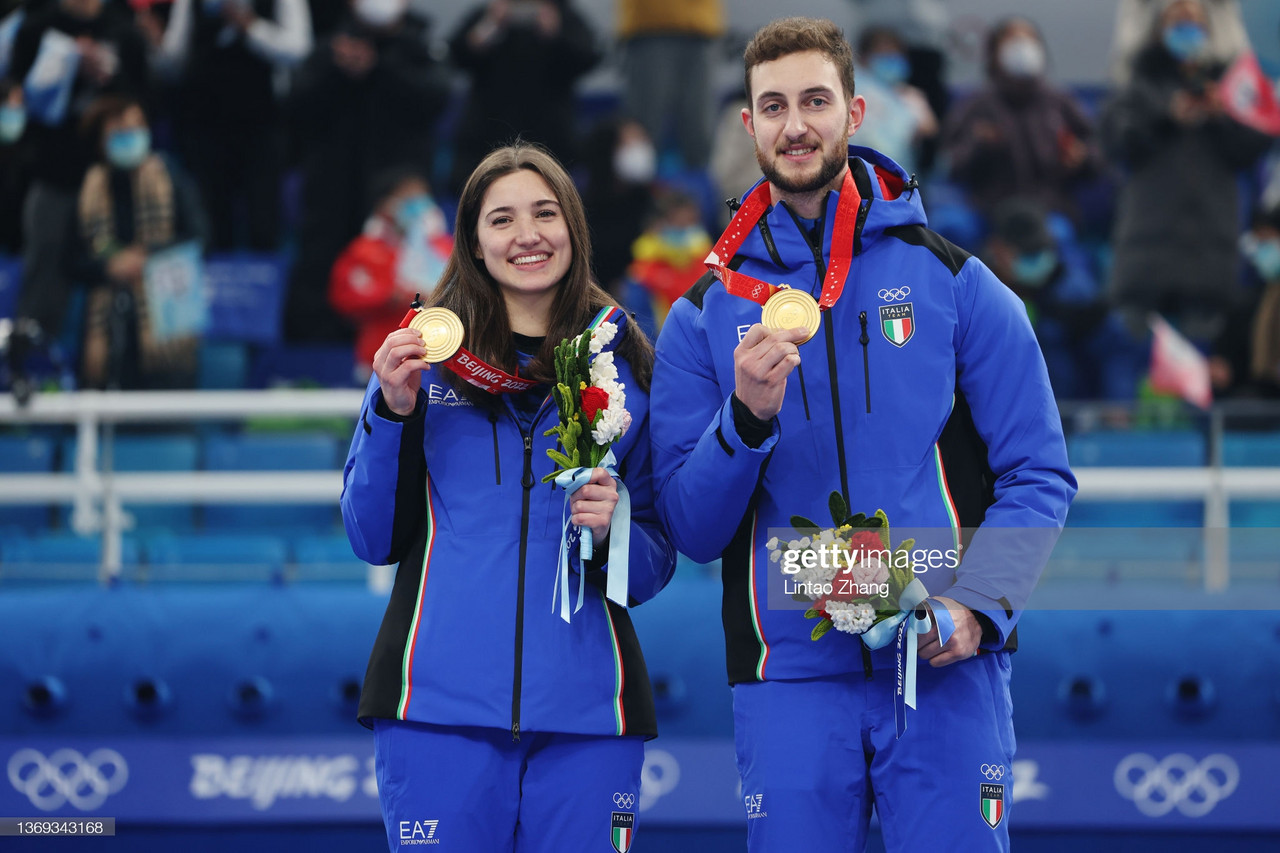 The most dominant performance in Olympic curling history came to a fitting conclusion at the 2022 Winter Olympics as Italy claimed the gold medal with an 8-5 victory over Norway in the gold medal game.
Stefania Constantini and Amos Mosaner completed an undefeated tournament, going 11-0 as they defeated the world silver medalists Kristin Skaslien and Magnus Nedregotten.
Italy stole an Olympic-record 23 ends and outscored their opposition 93-54 in 11 games in Beijing.
With hammer as the top seed, Italy played one of their worst ends of the entire tournament to give up a steal of two. Mosaner missed consecutive runbacks and after Skaslien drew to the button, Constantini was heavy on her own draw to put Norway in front.
The second end restored order for Constantini and Mosaner as they played some fantastic draws, Mosaner bumping his two red rocks into the four foot and button to sit two. Skaslien missed on her own draw and although Constantini's takeout didn't get the desired result, it was still 2-2.
The game turned as many people expected in the third end. Nedregotten jammed his runback and Constantini began to get in her groove, a picture-perfect draw leaving Italy sitting four, but Skaslien's hit-and-stay limited the damage to just one, Constantini and Mosaner taking a 3-2 lead.
If the third end turned the match around, the fourth all but clinched it for the Italians. A trio of perfect draws, two by Constantini and one by Mosaner, set them up for a steal of three. Nedregotten ticked the guard with his draw and Skaslien missed on her takeout attempt and it was 6-2.
Sensing their chances at the gold all but gone, Skaslien and Nedregotten elected to use their power play in the fifth end. They had a chance for two, but some more terrific work by Italy forced Skaslien to draw to avoid a steal of four and she delivered to cut it to 6-3.
End number six saw some outstanding shot-making both ways. Norway forced Mosaner to play a guard and Nedregotten threw a perfect draw to set up a possible steal of one, but an error by Skaslien gave Constantini the opportunity for a raise, which she converted.
Up 7-3, the seventh end started as has so many for Italy: a perfect Constantini draw that stopped dead on the button. That led to an end that saw a crowded house, Norway using their timeout late in the end. A guard thrown up by Constantini and a miss from Skaslien still gave the Norwegians two heading into the final end.
The eighth and final end was about score prevention by Italy. They used their power play and Constantini threw her first rock away to avoid any mistakes. After Mosaner missed on a takeout, he did execute on a hit-and-roll, but Nedregotten and Skaslien sought to take advantage as they laid two in the house after bumping out a red stone.
With the chance to seal the gold, Constantini, as she has done all tournament long, delivered with her final stone as she executed a picture-perfect double takeout, Mosaner with a fist in the air as the rock came down and cleared the two Norwegian stones, scoring a point for Italy and giving everyone a performance that will be remembered in Olympic lore.