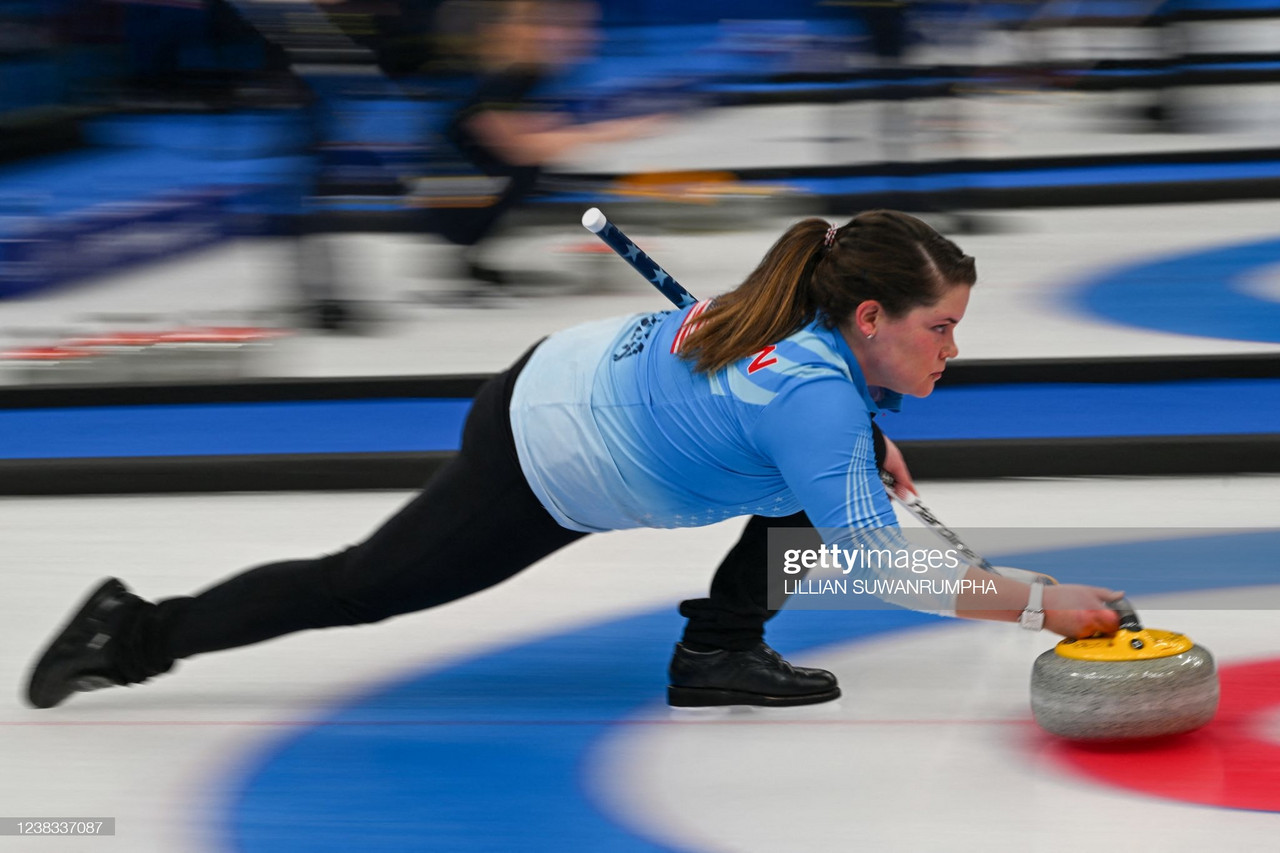 The women's curling tournament at the 2022 Winter Olympics got underway as ten teams look to begin their journey for gold in what is expected to be a wide-open tournament.
Team USA began with a convincing victory over the ROC. Switzerland, Denmark and Sweden also claimed wins while Canada and South Korea sat the opening session out.
The reigning world champions from Switzerland won after a mistake by Great Britain skip Eve Muirhead in the extra end.
Trailing 5-4 heading into the tenth, Swiss skip Alina Paetz tried to squeeze out an opponent stone from the button but it didn't go far enough and resulted in a single point.
Muirhead kept the front of the house open in the 11th to give herself the best chance of scoring. She needed to execute a full draw to the button and after a slight oversweep, she slid her shot too far.
Sheet B: Denmark 7, China 6
A remarkable draw by skip Madeleine Dupont on her last shot gave Denmark an opening game victory against hosts China.
The game was tied 3-3 after five ends and after the Danes blanked the sixth, a missed takeout attempt by the Chinese and a draw to the eight-foot by Dupont gave them three points and a 6-3 advantage.
Her draw in the ninth was heavy, giving China a steal of two to level the game at 6-6 heading into the final end. In that final end, Dupont drew through a small port to the button to wrap up the win.
"The last shot ---- I didn't think it was there!", she said. "You know sometimes i'm wrong, and it's good to be wrong.
"I think we've prepared the best possible way we could and I think we showed throughout the whole game. The feeling is just phenomenal, you cannot have a better start than this!"
Sheet C: Sweden 8, Japan 5
Defending champions Sweden faced off with bronze medalists Japan in a key early tournament showdown.
Swedish skip Anna Hasselborg made a perfect draw shot against three counters to cut Japan's lead to 3-2 after five ends.
Satsuki Fujisawa also faced the draw against four counters, but her stone didn't curl enough, resulting in a steal of three and a 5-3 lead for Sweden.
In the seventh, after a perfect corner freeze by Hasselborg to limit any possibility of a multiple score for Japan, Fujisawa was forced to take a single on a hit-and-stay to make the score 5-4.
In the eighth end, Hasselborg played a short runback to score three to extend the advantage to 8-4.
The Japanese had a chance to score four and tie the game after a missed Swedish hit in the ninth end, but Fujisawa's final hit hung wide and they only scored one to make the score 8-5.
"I actually liked the way I threw it", Hasselborg said. "We just took too much ice and it's one of those things. It's a first game of the championship and you gotta learn the ice and figure it out.
"I really enjoyed the ice. I think we missed a couple of shots but we learned from them and it's way better to go out with a win and learn from a win than learn from a loss. It was a great battle."
Team USA had little trouble seeing off the ROC, breaking open the game with steals of four points over the fourth and fifth ends.
Trailing 6-1, the ROC managed to score two in the sixth to cut it to a 6-3 game. In the seventh, skip Alina Kovaleva made the draw to the tee-line perfectly and forced American skip Tabitha Peterson to play a short runback.
She executed perfectly and secured three points. The ROC decided to concede following that shot.