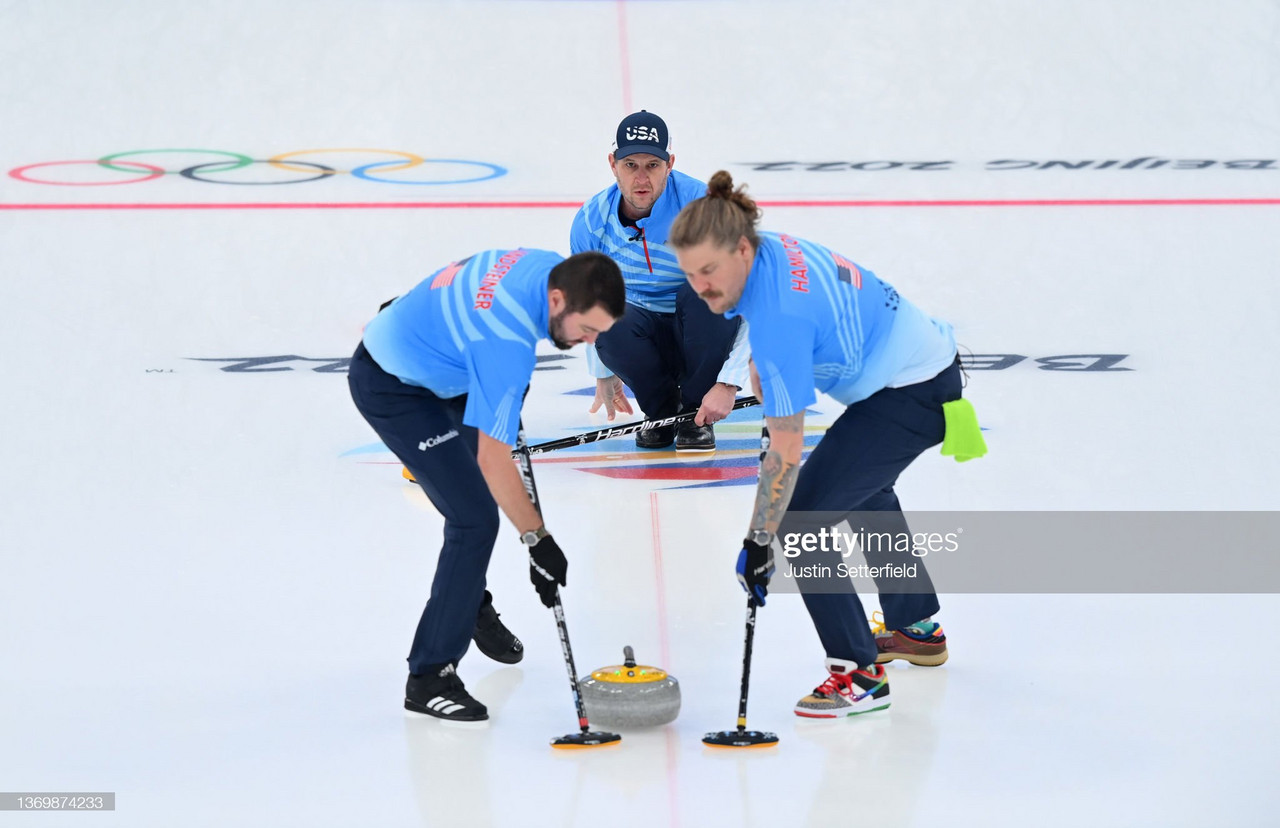 Session number three of men's curling took place at the 2022 Winter Olympics. Team USA scored an important win over Great Britain while Switzerland, Sweden and hosts China were also victorious. Canada and Norway, both 1-1, had the session off.
Here's a recap of all of the action from Beijing.
Sheet A: Switzerland 6, ROC 3
Both teams played defensively in what turned out to be a low-scoring game as Switzerland picked up their first win of the tournament.
It was 3-3 after seven ends when the Swiss picked up three and in the tenth, the ROC (1-2) ran out of stones as Switzerland improved to 1-1.
"It was a pretty defensive game because we were ahead on the scoreboard", said Switzerland skip Peter de Cruz. "I think if we were tied longer, we would have taken a bigger risk.
"We took a little bit of risk in eight because we wanted to win the game then. That's exactly what we did --- we made a few perfect shots and put them under pressure."
In what could be a semifinal preview, defending gold medalists Team USA came away with an important victory over Great Britain (1-1).
After a steal of three earlier in the game gave the Americans (2-1) a 5-2 lead, Great Britain skip Bruce Mouat made a hit-and-stay for two and after John Shuster couldn't convert on a double-tap and the Brits stole two.
Shuster redeemed himself with a gentlet tap for two put Team USA back in front 7-6 going to the eighth. Mouat slid his last shot too far and had to settle for one to tie the game.
A well-played end gave the Americans two points and the lead and in the tenth, a hogged stone by Great Britain set the tone as Team USA jumped back into a playoff place.
Sheet C: Sweden 9, Italy 3 (8 ends)
The Swedes improved to 3-0 as they ran away from Italy (0-2) to stay in first place in the standings.
Sweden led 3-1 after four ends and watched as the Italians jammed on a back stone to settle for just one to cut the lead to 3-2.
A mismanaged draw by Italy allowed Swedish skip Niklas Edin with a simple nose hit for three to extend the advantage to 6-2 after six ends.
Despite trying to get some guards in front in the eighth end, strong defense from Sweden left Edin with an open draw for three, leading to a concession from the Italians.
Sheet D: China 5, Denmark 4
China earned their first win of the tournament after a big missed opportunity by Denmark (0-2) in the eighth.
That opportunity was a hit for five points, but the shot didn't curl enough and a single point went to the Chinese to give them a 5-4 advantage.
In the ninth, Denmark tried to pressure their way into a steal, but a perfect double take-out to blank the end and head into the tenth with the lead.
Danish skip Mikkel Krause threw his draw through the house, leaving China with an open hit for the win.
"At the last shot, I was a little but nervous, but finally, we won the game, so we are very excited", said Chinese skip Ma Xiuyue. "We performed well, because after our last loss, we tried to find the reasons, so we adjusted our strategy.
"I feel very proud because these games are held in China, my home country."