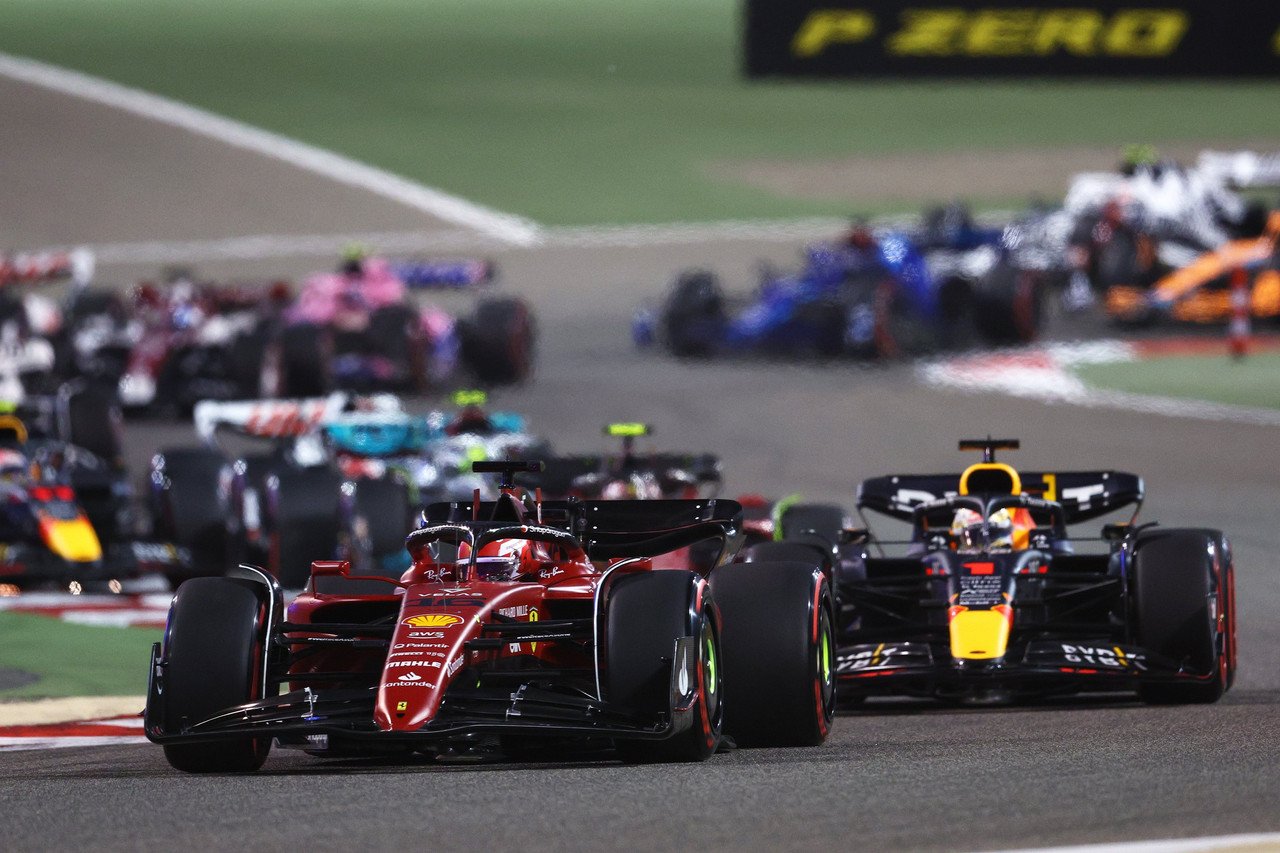 Thank you all.
Data
END OF THE RACE: DOUBLE FOR FERRARI
Last lap
This is Sainz's overtaking
Lap 55
Lap 54
Lap 51
Lap 50
This was the fire in Gasly's car.
Lap 47
Lap 46
Lap 45
Lap 44
Tussle between Carlos Sainz and Albon
Lap 40
Lap 39
Lap 37
Lap 36
Lap 34
Lap 33
Lap 32
Lap 31
Lap 29
Lap 28
Lap 28
Lap 26
This was the fight between Max Verstappen and Charles Leclerc.
Lap 18
Lap 17
Lap 16
Lap 15
This is Checo Perez's overtaking of Hamilton
Lap 12
The collision that led to the five-second penalty for Sergio Perez
Lap 10
Lap 6
Lap 5
This is how the Bahrain GP started
Lap 3
Lap 2
The race begins
Warm-up lap begins
Warm-up lap begins
The official photo of the pilots
The cars are already on the track
Attention with:
Debut for Guanyu Zhu
Hulkenberg replaces Sebastian Vettel
1 hour
Where and how to watch the Formula 1 race?
What time is the Formula 1 race at the Bahrain GP ?
Venue: The race will be held at the international circuit of Bahrain, a Middle Eastern country. The first Formula 1. race held here was in 2014 and since then 17 editions have been held. The 2011 one was suspended due to the critical situation the country was experiencing. A circuit that has 5 '412 kilometers. It has 15 curves, of which six are to the left and nine to the right .
World champion Max Verstappen dominated in free practice 2 and 3, but missed out on pole position
Charles Leclerc takes first pole position of 2022
Qualifying at the Bahrain GP (grid positions )
Summary of the 2021 race at the Barein Grand Prix
Background
Race Preview
Welcome to VAVEL.COM's LIVE coverage of the Formula 1 race at the Bahrain Grand Prix.