Mo Farah won a tenth consecutive global title at the World Athletics Championships on Friday night, running his second-fastest time ever over the distance to take the gold medal in a thrilling 10,000 meters final in London.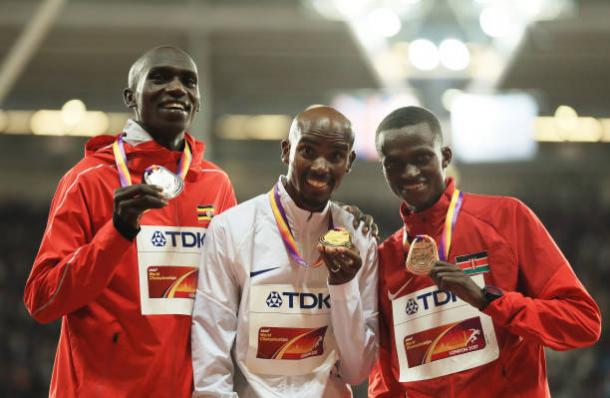 The Brit, the undisputed force in long distance racing over the past six years, was pushed to the brink, but eventually ran a personal best time of 26:49.51 to take the gold medal in what was the fastest race over the distance this year. Joseph Cheptegei of Uganda took the silver medal in a new personal best time, just 0.42 seconds behind the Brit, whilst Paul Tanui took the bronze in a season's best.
The Brit will now look to the 5,000 meters, which takes place later this week. Farah completed the long distance double at the World Championships in both 2013 and 2015.
Farah holds firm in incredible contest
There was no doubt Farah was the huge favorite heading into the final, and though he prevailed as expected the race was much tighter than expected; the likes of Tanui and Cheptegei helped make it one of the most thrilling contests over the distance in recent years.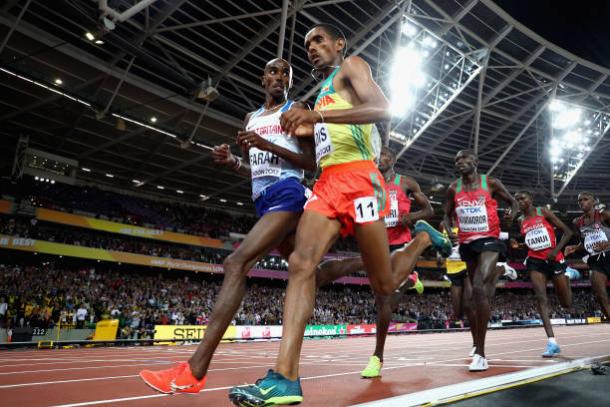 Unsurprisingly, Farah sat back early on, letting the likes of Geoffrey Kamworor and Cheptegei lead as the race got off to a fairly quick start. There was a sense ahead of this race that the likes of Kamworor and Tanui would have to run at a consistently fast pace to put themselves in a strong position, though the paced dropped a third of the way through and the Brit moved up the field and sat in behind the leaders.
Perhaps shocked by the fact that the Brit had moved up so early, the likes of Kamworor, Tanui, and Abada Hadis started to increase pace once again. As expected, the likes of the Kenyans, Ethiopians, and the Ugandans worked with each other to try and stay in the best position. With the race continuing at a fairly consistent pace throughout, it was with four laps to go that the heavy favorite moved further towards the front.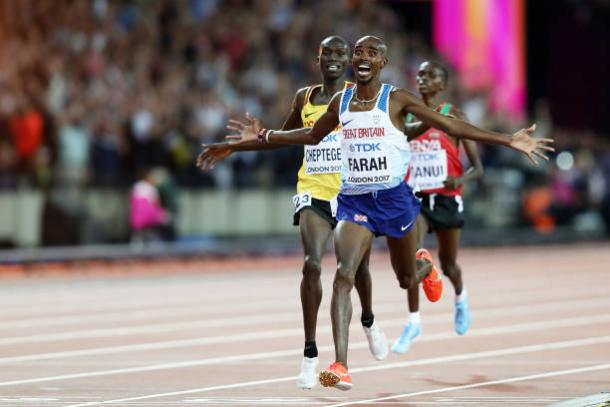 With just three laps to go the race was unexpectedly tight, with several men still in medal contention. It was Hadis, the fastest man in the world this year, who led towards the closing stages, though Farah moved up towards his shoulder with two laps to go. The Brit seemingly remained calm, facing extreme pressure from the likes of Tanui and Cheptegei, though remained firm and eventually had too much as he edged past the Ugandan and Kenyan to take a sixth world title.