Almaz Ayana produced one of the most dominant pieces of distance running in history on Saturday night at the World Athletics Championships, cruising to the gold medal in the Women's 10,000m.
The Ethiopian, who broke the world record as she stormed to the Olympic title in Rio de Janeiro last summer, managed a slow start successfully and then moved away from the rest of the field after just eight laps as she eased to her first world title over the distance in a time of 30:16.32.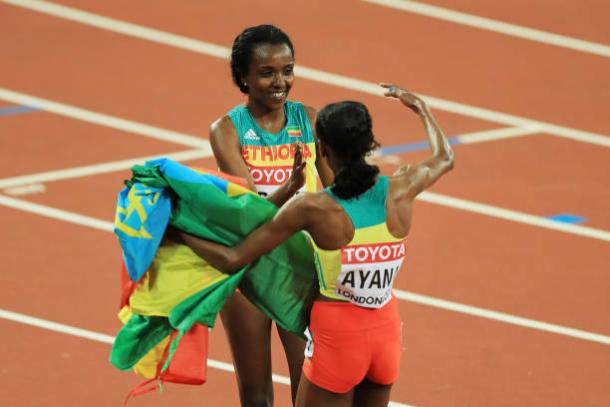 Ayana's fellow Ethiopian, Tirunesh Dibaba, was perhaps the slight favorite heading into the final, though the three-time champion over this distance was a class behind as she was forced to settle for the silver medal in a time of 31:02.69. Agnes Tirop took the bronze medal in a time of 31:03.59. Ayana will now look to defend her 5,000m title.
Ayana cruises to second consecutive global title
Having not run a race over this distance in 2017, there were undoubtedly doubts about Ayana heading into this race, though she absolutely tore the rest of the field apart to win Ethiopia's first gold medal of the Championships.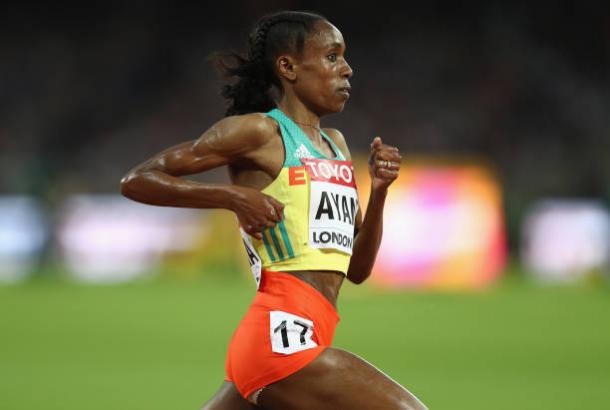 Unlike in the men's final yesterday, which was run at a fairly fast pace, the start to this final was extremely slow, with the likes of Ayana and Dibaba sitting slowly towards the back of the field, with Yasemin Can leading the runners during the early stages. It was around the 3,000-meter stage that Ayana, who stunned the world as she demolished the world record in the Olympic final last year, moved towards the front and dramatically increased the pace just as she did in Rio last summer.
With the Olympic champion now in control, the field dramatically stretched out, with Can the only woman who was seemingly able to stay with the Ethiopian. Though the Turk tried to hang on, around the halfway stage Ayana moved away from her and put herself in complete control. A chasing group, featuring Dibaba and the Kenyan trio of Irene Cheptai, Tirop, and Alice Nawowuna, moved up with Can, though there was no doubt that Ayana had an unassailable lead.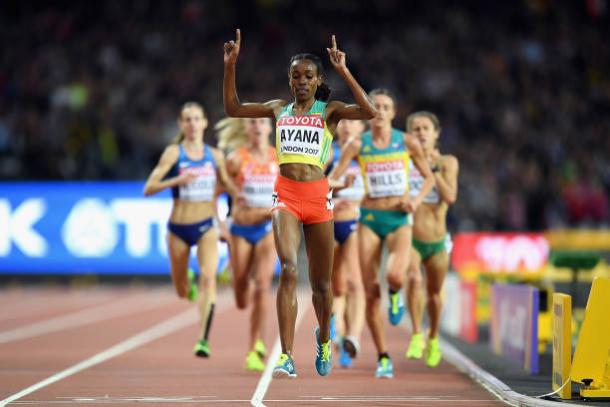 Ayana continued in the same fashion, constantly moving away from the chasing group, which had dropped Can who had seemingly made a mistake in trying to match the eventual champion when she first made her move. The Ethiopian was slowing down but did not need to be worried at all, and she eventually eased to her second ever World title. Behind her was the race for the minor medals between Tiprop and Dibaba, who had pulled away themselves. It was Dibaba who showed some form of old to beat the Kenyan to second, though there was no doubt that her countrywoman Ayana was a class apart.