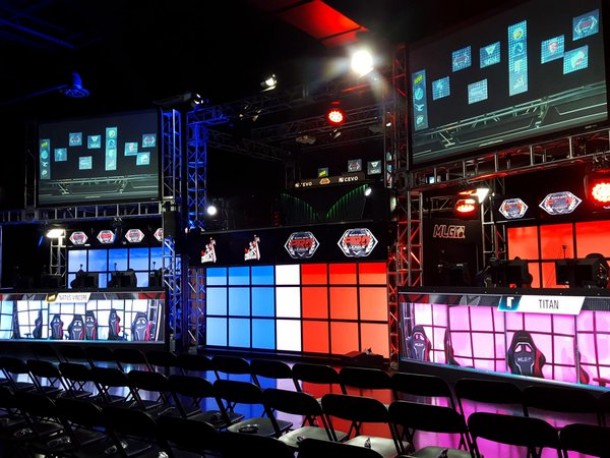 Rise Nation came out of the wood work today in Columbus to win their first major tournament as an organization and top seven other teams to become champions to open up Call of Duty: Black Ops 3. The tournament was won for Rise on a Game 5, Round 11 matchup on Breach Search and Destroy against OpTic Gaming. OpTic was on the prefered offensive side but Slacked turned the tables on the Green Wall with his Annihilator specialist to pick up two big kills early in the final round. It was the second championship for Slacked, with his first coming last year at a smaller tourament in Detroit with his former team eLevate, who were taken out this time in the first round by the runners up in OpTic Gaming.
After beating eLevate 2-1 in the opening round, OpTic moved on to play compLexity in the semifinal round. In this semifinal matchup, Crimsix went absolutely nuts getting 42 kills in Fringe Hardpoint to open the series. OpTic would struggle in the second map, Stronghold Capture the Flag though, citing lack of knolwedge for the loss in game 2. But OpTic would strike back on Combine SND in dominating fashion to clinch their top two placing.
On the other side of the bracket, Team Kaliber went up against FaZe in the final match of the quarterfinals. tK took it right to FaZe with a good comeback to open up Breach Hardpoint and take a 1-0 series lead. On Evac Uplink, tK would have a good first half, and would hang on just long enough on the second side to come up on top over FaZe and send them packing in the first round in upset fashion.
Rise Nation would kick off their tournament with a 2-1 victory over Luminosity. LG looked strong out of the gate, but Rise took the next two maps in dominating fashion to put down the newest organization in Call of Duty and solidify themselves as real contenders.
In the closest series of the day, Rise Nation and Team kaliber went down to the wire all series long. It began with a 250-249 victory by tK on Fringe Hardpoint, to hold off a ferocious comeback by Rise late in the game. But in a close capture the flag game on Stronghold, Rise would pull it off in overtime capping a flag in 2:25, a time tK could not overcome. Rise would have control on Combine SND through most of the map.
The event did not go off without a hitch as most would like. The game had many technical difficulties early on. One of which absolutely ripped EnVyUs out of their chance to contend. nV was up 4-3 on Metro SND when a game error ended the game. compLexity would go on to win the map against nV and end their day on the first match of Black ops 3.
Final Placings for the Totino's Invitational 50K:
1st: Rise Nation $20,000
2nd OpTic Gaming $6,000
3rd/4th: compLexity, Team Kaliber $4,000
5th/8th: EnVyUs, Luminosity, eLevate, FaZe $4,000
For his contribution throughout the day, Octane of Rise Nation was named tournament MVP. This was Octane's first championship of his Call of Duty career. Congratulations to him, and everybody associated with Rise Nation on this championship.