SK Telecom T1 and G2 Esports have both had odd MSI performances thus far in Shanghai. G2 came in getting completely stomped, having others question he team's motives heading into the tournament. SKT started off strong then tilted over an 0-4 stretch. But, both teams have had successful responses to their poor play.
Standings
Royal Never Give Up 7-1
Flash Wolves 5-3
Counter Logic Gaming 5-3
SK Telecom T1 4-4
G2 Esports 2-6
Supermassive 1-7
Currently, SKT has the fourth seed in complete control. In order for G2 to make it into the top 4, they'd have to have a 2-0 day 5, which includes defeating SKT, then have SKT go 0-2, to force a tie-breaker for fourth place. So a lot has to happen for Europe to get their slot in the top 4. They essentially have to defeat SKT twice in the same day.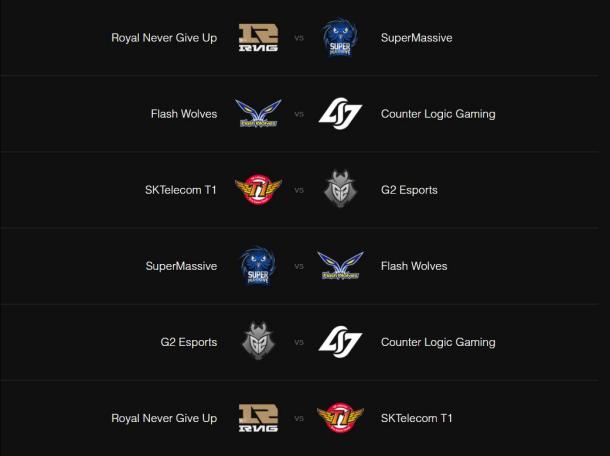 Flash Wolves and CLG play each other as well, but CLG has a difficult path if they don't go 1-1 or better on the day. If they go 0-2, they could potentially be passed p by SKT and then fall to 4th heading into the second stage of MSI. This would be worst case scenario considering they'd then have to play RNG in a best of 5 who have been looking awesome all tournament. Flash Wolves have the tie-breaker onto SKT so that threat is not asomething to worry about from them, unless Flash Wolves go 0-2, though that isn't likely with them playing SuperMassive.
Ideally if you're an SKT fan you hope to go 2-0, while CLG goes 0-2, to avoid RNG. If you're Flash Wolves or CLG, you essentially just hope to stay where you are in second or third. If you love G2, you need to hope to get that tie-breaker match against SKT. If so, good luck.