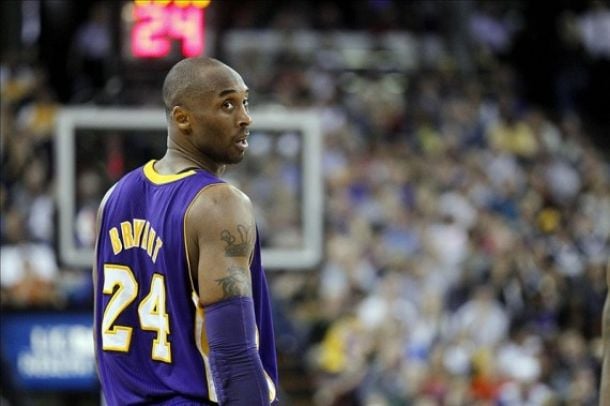 It all started in May of 1996 when seventeen-year old, high school phenom Kobe Bryant declared for the NBA draft. Bryant was selected thirteenth overall by the Charlotte Hornets. However, on draft day, Lakers General Manager Jerry West saw superstar credentials in Kobe Bryant and pulled off a draft day deal for Kobe. The Lakers sent Vlade Divac to the Hornets for Kobe Bryant, and Kobe's journey with Shaquille O'Neal began.
In his rookie season, Kobe Bryant was not very well-known as he only started in six games for the Lakers and averaged 7.6 points per game. Although, the 1997 Slam Dunk Contest brought him popularity as Bryant amazed the fans with between the legs and reverse dunks. He had NBA legends up out of their seats, and the whole crowd chanting "Kobe, Kobe, Kobe," as he went on to win the Slam Dunk Contest.
Yet, Kobe's on-court struggles continued throughout his rookie season. During the 1997 playoffs against the Utah Jazz, Kobe Bryant air-balled four straight shots during crunch time of Game 5 where the Lakers were eliminated. That didn't stop Kobe from working harder and coming back stronger. He was still not afraid of the big moments, and he upped his game in his sophomore year, despite still being a bench player and overshadowed by Eddie Jones.
In 1998, Kobe Bryant was selected to his first All-Star game. Bryant showed some more of his flashy moves during this All-Star game with 360' dunks, fancy dribble moves, and alley-oop finishes. The most memorable move was when Bryant stole the ball, made a dribble move behind his back, and threw up a hook shot over Dikembe Mutombo. Kobe finished the game with 18 points and 6 rebounds, and the comparisons to Michael Jordan were evident. The Lakers got all the way to the Western Conference Finals that year, but they lost to the Jazz once again.
During the 1998-99 lockout season, the Lakers sought to give Kobe more minutes, so they traded Eddie Jones to the Charlotte Hornets for Glen Rice and J.R. Reid. Kobe started in every single game that season and averaged 19.9 points and 5.3 rebounds per game. The Lakers were still not up to par as they were swept in the second-round of the playoffs by the eventual champs, the San Antonio Spurs, thus ending the era of the Great Western Forum.
During the 1999 off-season, the Lakers made a huge hiring. They picked up six-time champion Phil Jackson to coach the team and played in a new arena called STAPLES Center. The Lakers went on to win their first title since 1991 led by Shaquille O'Neal, who won both the season and finals MVP that year. However, many people believe that Shaq carried Kobe throughout their championship years, but that's debatable. Kobe's legacy pretty much started during the 2000 playoffs. Although Shaq was putting up huge numbers, Kobe was the one making huge plays and coming up big during crunch time.
First of all, NBA games are won as a team. Shaq did not do it all by himself. Everyone contributed and made big plays when needed. Also, if Shaq carried Kobe, then why couldn't he carry Kobe to championships the first three seasons they were together? The answer is simple. Kobe wasn't a superstar yet. It was Kobe's all-around improvements that helped Shaq and the Lakers get to a championship level, and Phil Jackson's coaching that helped them win a ring. Kobe Bryant's performances and clutch plays were definitely overlooked during the 2000 playoffs. First, during Game 2 of the Semi-Finals, Kobe Bryant hit a game-winning, double-clutch jumper over the tough defense of Jason Kidd putting the Lakers up 2-0 in the series. Second, was Kobe Bryant's big time block on Arvydas Sabonis during the final seconds of Game 3 of the Western Conference Finals, preventing the Portland Trail Blazers from making a potential game-winning shot and putting the Lakers up 2-1 in the series. But where Kobe amazed every one most was in Game 4 of the Finals.
Before talking about Kobe's heroics in Game 4, it's important to note that Kobe Bryant was injured in Game 2. Kobe sprained his ankle on Jalen Rose's foot and missed Game 3 where the Lakers lost. Though, Kobe returned in Game 4 and decided to play on a very sore ankle. That did not stop Kobe from putting on a brilliant performance. Game 4 was a highly contested game. Kobe hit clutch jumpers in the fourth quarter, but the game still went to overtime. During overtime, Shaquille O'Neal fouled out with 2:33 left. That's when Kobe took over. He hit three jump shots and a game-winning, put back, reverse lay-up. Kobe came through in the clutch while Shaq was on the bench viewing the game. Bad ankle and all, Kobe helped the Lakers win the biggest and most important game of the series. Imagine what would have happened if the Lakers didn't win that game. The series would have been tied at 2-2 with one more game on the road in Indiana. This game proved that Shaq needed Kobe, and Kobe needed Shaq. Even Shaq said that, "When Big Daddy isn't there. Small Daddy is there."
The 2001 playoffs weren't any different. Kobe Bryant averaged 29.4 points, 7.3 rebounds, 6.1 assists, and 1.6 steals per game. Kobe put up monster performances during the 2001 playoffs. In Game 4 of the Semi-Finals against the Kings, Kobe had 48 points and 16 rebounds. Game 1 of the Western Conference Finals, Kobe logged 45 points and 10 rebounds. Game 3, he tallied 36 points, 9 rebounds, and 8 assists. Game 2 of the finals, 31 points, 8 rebounds, and 6 assists. Game 4 of the finals, he put up 19 points, 10 rebounds, and 9 assists. And the Game 5 championship clincher, he had 26 points, 12 rebounds, and 6 assists. Bottom line is, Kobe was having an extraordinary playoffs but was overlooked by the public.
However, Shaq didn't let Kobe's performances go unnoticed. After their Game 1 victory in the Conference Finals, Shaq said, "I told Kobe that he was my idol. I'm serious. He's playing phenomenal. I think he's the best player in the league, by far."
Those were strong statements made by Shaq because the Lakers were known as his team, and he was the leader of the pack but generously, he gave Kobe the credit he deserved. Kobe was undoubtedly at his best during the 2001 playoffs. He didn't receive the Finals MVP, but his performances were unforgettable. Kobe's resilient performances helped make the 2001 playoffs a breeze for the Lakers as they went 15 and 1, making NBA history.
The 2002 playoffs were tough for the Lakers. They had a new rivalry; the Sacramento Kings. Bryant averaged 26.6 points, 5.8 rebounds, and 4.6 assists per game. His numbers weren't as resounding as the 2001 playoffs, but those were still great averages for a guy who was "number two" on the team. The biggest game for the Lakers came in Game 4 of the Conference Finals against the Kings. The Lakers had to come back from over 20 down and won with a miracle game-winning three-pointer by Robert Horry. In this case, Horry saved the Lakers' season as they went on to win their third straight championship.
Shaq was unquestionably dominant in the 2002 NBA Finals where the Lakers swept the New Jersey Nets, but Kobe was miraculous as well. Kobe averaged 26.8 points, 5.8 rebounds, and 5.3 assists per game on 51.4% shooting from the field and an outstanding 54.5% from beyond the arc. The most memorable moment was when Kobe posterized 7 foot big man, Todd MacCulloch. Overall, both Shaq and Kobe beasted in that series which had people ranking them up there as one of the best duos to ever play.
The 2003 season is where Kobe broke out as a true leader. He averaged 30.0 points, 6.9 rebounds, and 5.9 assists during the season and 32.1 points, 5.2 assists, and 5.1 rebounds during the playoffs. The Lakers did not win a ring, but Kobe was once against brilliant in all regards. That was the year where Shaq decided to delay his surgery, which evidently cost the Lakers home court advantage since they finished fifth in the standings. That was also the year where Kobe went off for nine straight 40-plus point games and thirteen straight 35-plus point games while Shaq was nursing his injury. However, Shaq and Kobe still shared a positive relationship, despite Shaq's questionable decision to have surgery during training camp.
The off-season of 2003 is where Kobe's public image took a hit. He was accused for rape in Colorado. The Lakers signed Hall-of-Fame players, Gary Payton and Karl Malone, but Bryant had off-court distractions to deal with. Even though he had to deal with court hearings, Bryant didn't let that affect his game. There was a game against the Nuggets where Kobe showed up right after he had a court hearing and capped the game off with a game-winner. Kobe showed us his inhuman side. He displayed his composure throughout the whole season and his toughness. In fact, during this season, Kobe Bryant injured his shoulder and was supposed to be out 2-3 weeks, but he came back in about a week, which was earlier than expected. Kobe closed the 2003-2004 regular season with two clutch shots against the Blazers in Portland. One was a ridiculously tough three-pointer in the face of the self-proclaimed "Kobe Stopper," Ruben Patterson, to tie the game and send it to overtime, and one was a turnaround three-pointer off the wrong shoulder to win the game in overtime.
The Lakers made it back to the NBA Finals, where they crumbled as a team. However, the only victory in the Finals series for the Lakers came off a Kobe Bryant game-winning three in Game 2. According to Rick Fox, the Lakers got too cocky and underestimated the Pistons during the 2004 Finals. The highly publicized Kobe and Shaq feud was already at an intense point after the conclusion of the season, and the Lakers eventually decided to keep Kobe over Shaq.
From 2004-2007, the Lakers struggled as a team, but Kobe demonstrated to the whole NBA world that he was a force to be reckoned with on the offensive end. During the 2004-2005 season, Kobe averaged 27.6 points, 6.0 assists, and 5.9 rebounds per game. However, it was the 2005-2006 season where Kobe shocked the world with incredible performances.
On December 20, 2005, Bryant went off for 62 points on 18-of-31 shooting in only three quarters of play. He single-handedly outscored the Dallas Mavericks team, 62-to-61. Name another player who can outscore an NBA team by himself in three quarters. It was unbelievable, but that wasn't it. Bryant had a historic night about a month after, as he scored 81 points, which became the second highest scoring output in NBA history behind Wilt Chamberlain's 100-point game. 81 points was an incredible output considering that Kobe did it mostly with jump shots. He went 28-for-46 from the field and 7-for-13 from threes. Bryant led the league with his career-high 35.4 point average.
Bryant was easily the best player in the league, despite his team not succeeding. He was the toughest player to defend and beat his opponents with various offensive moves. His footwork was at its best and his I.Q. was at its highest.
During the 2006-2007 season, the offensive onslaught continued. While the rest of the team battled with injuries, Kobe took it upon himself to carry the scoring load. He had four straight games of 50-plus points and once again won the scoring title. His team was still first-round and out, but Kobe's not to blame since he had Kwame Brown, Smush Parker, Brian Cook, and Chris Mihm as teammates, and Lamar Odom who had an injury-riddled season.
The following season, the Lakers brought back Derek Fisher, who helped Kobe with leadership responsibilities. Andrew Bynum was growing as a player but went down with a season-ending knee injury. The Lakers made a massive mid-season acquisition by trading for Pau Gasol. Gasol helped Kobe put the Lakers on top of the conference, and Bryant went on to win his first MVP award.
Kobe knew that he had a much better team now, and that he could finally succeed, and it was his team. The Lakers demolished the Nuggets in a four-game sweep in the first-round of the playoffs as Kobe averaged 33.5 points, 6.3 assists, 5.3 rebounds, 1.5 steals, and 1.5 blocks per game on 50 percent shooting. The next series was no different. Kobe averaged 33.2 points, 7.2 assists, and 7.0 rebounds a game. 29.2 points, 5.6 rebounds, 3.8 assists, and 1.6 steals were his averages against the Spurs in the Conference Finals. In the Finals, he averaged 25.7 points, 4.7 rebounds, 5.0 assists, and 2.7 steals a game, but it wasn't enough as the Lakers learned that defense wins championships. However, Kobe's playoffs performance was completely solid. He proved to the whole world that he could succeed without Shaq.
The Lakers had much better focus during the 2008-2009 season as they ended the season with a 65-17 record. Kobe averaged 30.2 points, 5.5 assists, and 5.3 rebounds a game throughout the playoffs as he led the Lakers to their first championship since 2002. Kobe made a statement in Game 1 of the 2009 Finals as he posted 40 points, 8 rebounds, and 8 assists. Bryant was awarded the Finals MVP as the Lakers beat the Magic 4-1.
During the 2009-2010 season, Kobe broke his finger, but that didn't stop him from playing. A true warrior that he is, Bryant wrapped his finger and played through the injury instead of sitting out for weeks. During that season, Bryant had six critical game-winners. One was the memorable one-footed three-pointer over Dwyane Wade. Others included a three-pointer against the Kings and Grizzlies, and three tough two-point jumpers against the Celtics, Bucks, and Raptors. Ankle injuries also bothered Kobe, but he played through it, and this was the year where he became the Lakers' all-time leading scoring.
Bryant's playoff performance was still at a high level, despite playing with a broken finger. He still helped the Lakers win another championship and was crowned Finals MVP again. Game 7 of the Finals was a defensive battle. Kobe struggled with his shot, but he still finished with 23 points and came through in the fourth quarter. Plus, he snatched 15 important rebounds. Some people overlook the rebounding output that Kobe had because of his poor shooting but don't realize that the Lakers shot 32.5% as a team, so the whole team was struggling with their shot as well.
The 2010-2011 season was a miserable one for Kobe. He struggled in the playoffs, but the man almost had bone-on-bone in his knee. He had the same injury that forced Brandon Roy to retire and Kobe even admitted that he wanted to retire after that season. But he went to Germany and after a legal procedure; he came back a brand new man and continued to help the Lakers succeed. However, the Lakers haven't won a championship since the 2010 season.
Going into the 2012-2013 season, the Lakers built another super team, but that team was unable to find chemistry and rhythm on the floor. So the team turned to 34-year old Kobe Bryant to save the season, and Kobe did just that. He averaged 30.5 points, 7.5 assists, 7.0 rebounds, 2.2 steals, and 1.2 blocks a game in the month of April. Unfortunately, Kobe Bryant went down with an Achilles injury that sat him out for the rest of the season, though, Kobe did enough for the team to make it to the playoffs only for them to get swept by the Spurs.
When Kobe tore his Achilles, he shot both costless-throws and walked to the locker room on his own. Kobe Bryant once again showed his toughness because any other player would ask to be carried off the court. That's the type of warrior Kobe Bryant has been his whole career.
After his Achilles injury, Kobe had some self-doubt. After the injury Kobe posted this on his Facebook page:
"This is such BS! All the training and sacrifice just flew out the window with one step that I've done millions of times! The frustration is unbearable. The anger is rage. Why the hell did this happen?!? Makes no damn sense. Now I'm supposed to come back from this and be the same player Or better at 35?!? How in the world am I supposed to do that??
I have NO CLUE. Do I have the consistent will to overcome this thing? Maybe I should break out the rocking chair and reminisce on the career that
was. Maybe this is how my book
ends. Maybe Father Time has defeated me...Then again maybe not! It's 3:30am, my foot feels like dead weight, my head is spinning from the pain meds and I'm wide awake. Forgive my Venting but what's the purpose of social media if I won't bring it to you Real No Image?? Feels good to vent, let it out. To feel as if THIS is the WORST thing EVER! Because After ALL the venting, a real perspective sets in. There are far greater issues/challenges in the world then a torn achilles. Stop feeling sorry for yourself, find the silver lining and get to work with the same belief, same drive and same conviction as ever.
One day, the beginning of a new career journey will commence. Today is NOT that day.
'If you see me in a fight with a bear, prey for the bear.' Ive always loved that quote. Thats 'mamba mentality' we don't quit, we don't cower, we don't run. We endure and conquer.
I know it's a long post but I'm Facebook Venting LOL. Maybe now I can actually get some sleep and be excited for surgery tomorrow. First step of a new challenge.
Guess I will be Coach Vino the rest of this season. I have faith in my teammates. They will come thru.
Thank you for all your prayers and support. Much Love Always.
Mamba Out"
Kobe Bryant did return from his Achilles injury only to get injured again after six games of play. Apparently, Bryant broke a bone in his knee during a game against the Memphis Grizzlies, but he still played through it and even hit a marvelous three-pointer to help the Lakers win. Inhuman? Maybe, but that's Kobe being Kobe. Now, Kobe Bryant still has some self-doubt, but he continues to battle and work hard.
One thing that is absolutely true about Kobe is that he loves the game with a passion, and he enjoys winning. He is not going to let anything stop him from playing, so he will rehab and make a return. The first half of Kobe's career was overshadowed by Shaquille O'Neal, but Kobe was still able to build himself a legacy. He helped Shaq win three rings and had great playoff series'. Many people might not remember, but that team wouldn't succeed without Kobe's heroics and astonishing play on both ends of the floor.
Kobe did come into the league with a lot of cockiness and arrogance, but every superstar is the same. Kobe has been known for his fade away jumpers, but he endures a lot of more skills than that. He has great footwork, I.Q., and was once as athletic as most guys in the league today. His defense was top notch as well when he had his speed and athleticism.
There is no question that he will go down as one of the greatest. Right now, as he is injured, a lot of people are forgetting about his greatness, but it was only a year ago when 34-year old Kobe Bryant was carrying his team to the playoffs and playing just as well as he was during their most recent championship years.
Kobe Bryant is not the next Michael Jordan. He is the next Kobe Bryant. His game is similar to Jordan, but he is his own player. Even Kobe has said that he does not want to be compared to Jordan.
Kobe Bryant will certainly be a Hall-of-Famer one day. He has five championship rings, two Finals MVPs, one season MVP, and four NBA All-Star MVPs under his belt. Plus, sixteen All-Star game appearances and has been on the All-NBA First Team eleven times and on the NBA All-Defensive First Team nine times. He has two scoring titles and was the Slam Dunk Contest champion. He is the all-time leading scorer for the Lakers franchise and is currently fourth on the NBA all-time scoring list.
Kobe Bryant's true greatness is defined on the basketball court and not only by looking at his stats. The man has made his share of clutch plays, shots, and defensive stops. It's been a honor to look a young seventeen-year-old stand-out turn into an NBA legend and mature as a person along the way.