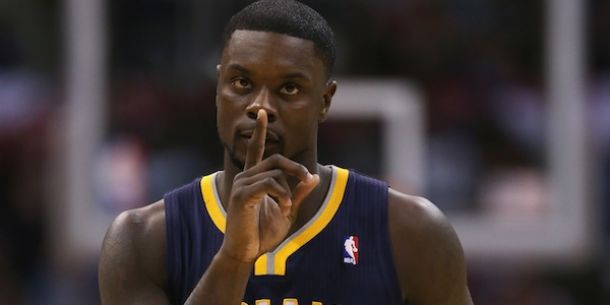 The Indiana Pacers made their sells pitch to Lance Stephenson yesterday by showing a heartfelt movie tribute in hopes of persuading him to remain in Indiana. However, sources close to the situation have said that Stephenson was less than impressed by the offer that was presented to him.
The Pacers offered Stephenson a five-year $44 million contract but Stephenson believes he's worthy of a bigger deal. He averaged career highs of 13.8 points, 7.2 rebounds and 4.6 assists last season. He also led the leagues in triple doubles with five in the regular season.
"Lance and his representatives aren't sure they're going to be able to reach an agreement with the Pacers," a source said. "It's clear they want him back and he wanted to go back, but they may not be able to come to terms."
The Pacers aren't the only team that has showed interest in Stephenson, as the Chicago Bulls, Los Angeles Lakers, and even Michael Jordan's Charlotte Hornets are all reportedly interested.
Lance Stephenson is not simply looking at going to a team with the highest bid, but also wants to go to a team that has a chance at competing year in and year out.
The Pacers want to keep Stephenson in Indiana but with $42 million already committed to Paul George, Roy Hibbert, and David West for next season there's only so much money to go around. The Pacers would like to have some financial flexibility left if they were to re-sign Stepheson in order to add key acquisitions to their bench and possibiliy another point guard.