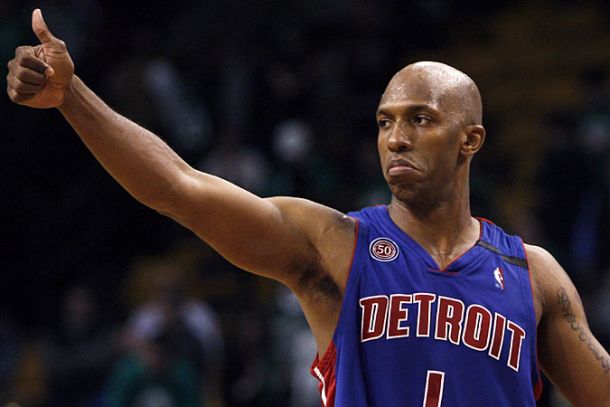 Former NBA Champion and Finals MVP, Chauncey Billups, may not be done playing in the NBA. Even though the veteran point guard is 37 years old and has been in the league for 17 seasons, he may continue his playing career in the 2014-15 season. Playing is certainly still an option for Billups, who recently became an unrestricted costless agent when the Detroit Pistons decided not to pick up their $2.5 million team option on his contract.
While it's true that Billups has a number of coaching, front office, and media opportunities available to him, he has not decided if he wants to retire and walk away from the game just yet. He's currently weighing his options and trying to decide what is next for him.
Billups is currently training with Joe Abunassar at Impact Basketball in Las Vegas, preparing himself in the event that he gets a call to play. He believes he can still help a team; however, Billups made it clear that he'll only resume his career if the right situation presents itself. In other words, he will only delay his retirement if a championship-caliber team comes calling and requires his services.
Billups has been training with Abunassar for his entire career, and the Impact Basketball trainer says that the point guard is in terrific shape and looking fantastic in workouts. "This is the best I've seen him since his string of years where he was a perennial All-Star," Abunassar said.
Billups tore his left Achilles tendon in 2012 and had a knee injury that required a minor surgery last season, but he's completely healthy now and feeling better than he has in a long time. The fact that Billups has played so few minutes over the last few seasons could extend his career, since he has been able to rest his body and not endure much wear-and-tear recently.
There are a number of talented teams that could use a reserve point guard, such as the Miami Heat, Oklahoma City Thunder, or even the Dallas Mavericks.
If Billups' playing career does come to an end, he will either work in a front office or in a broadcast booth. He has been offered coaching opportunities (reportedly as an assistant coach for the Minnesota Timberwolves under Flip Saunders), but he is not sure that coaching is for him.
"I think it'll be one of two things, it's either front office or TV," Billups said when asked about his post-playing career. "I love broadcasting; I've done a little bit of it and I really, really enjoyed that. And if I stayed in the game, I always felt like my best role would be in a front office. I know a lot of people think of me and coaching, and I'm sure that I could coach and at some point probably be a pretty good coach, but we'll just have to see. Every option is open."
A number of teams have expressed interest in Billups, and he is keeping his options open, but it remains to be seen what's next for the five-time All-Star.