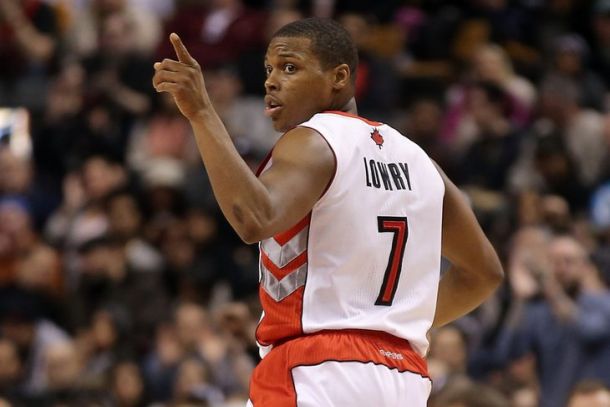 Kyle Lowry has agreed on a four-year, $48 million deal to stay with the Toronto Raptors according to Adrian Wojnarowski of Yahoo! Sports. The final year of Lowry's deal has an early termination option which will allow Lowry the opportunity to become an unrestricted costless agent in 2017.
Lowry initially told the Raptors that he would wait a few days before making a decision, but he has now decided to re-sign with the franchise earlier than expected. Lowry was the top costless agent point guard this summer, and he was drawing interest from the Houston Rockets, Los Angeles Lakers, and Miami Heat.
Kyle Lowry, 28, had an all-star caliber year last season with averages of 17.9 points, 7.4 assists, 4.7 rebounds, and 1.5 steals per game. He was expected to receive a huge pay this off-season, and the Raptors gave him just that.
The Raptors general manager, Masai Ujiri recently pulled off a deal to land Lou Williams, and now he secures Lowry, which was his number one priority this off-season. He made his pitch to Lowry right as the off-season was under way.
Lowry led the Toronto Raptors to the playoffs for the first time in five years. Yet another brilliant move by the Raptors front office.
"Toronto is just the right place for me," Lowry told Yahoo. Lowry also Tweeted a picture of himself wearing an old school Vince Carter jersey saying "…Toronto will be my home city."