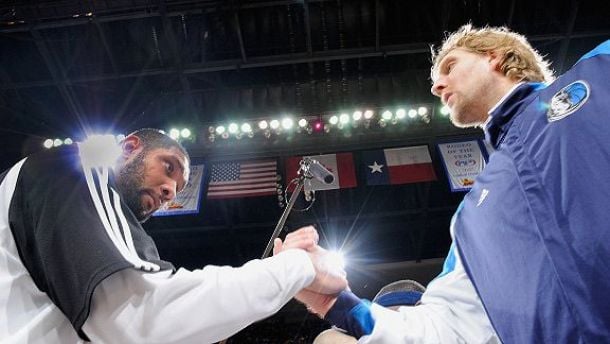 There was never any doubt Dirk Nowitzki would re-sign with the Dallas Mavericks; the numbers were the only question and even those were pretty predictable.
Dirk 's three-year, $30 million deal is almost identical to the deal given to the San Antonio Spurs' power forward Tim Duncan. Nowitski and Duncan will go down as two of the most elite power forwards to ever play the game of basketball while demonstrating a loyalty, competitivenss, and unselfishness that is near non-existent in this era of basketball.
Fans always ask their superstars to stay with their respective teams throughout their entire careers, but in today's NBA loyalty is becoming a rarity. Dirk and Duncan have sacrificed millions and millions of dollars to remain with their respective organizations and significantly increase their odds of completing their careers on championship contenders.
While Dirk hasn't had the championship success like Duncan, he has never wavered away from the city of Dallas and has stayed true to his word to finish his career with the Mavericks. Nowitzki could have easily decided to join another organization contending for a title, but he decided if he is to win another ring it will be in Dallas. This also is not the first time Nowitzki has taken much less than market value to stay with the Mavs. He could have easily gotten a max contract the last time he was technically a costless agent, but he left $16 million on the table to sign a four-year, $80 million deal.
Duncan, on the other hand, could have left San Antonio about 2 years ago to chase his fifth ring, but he took a pay cut in order to give the Spurs the ability to assemble the deepest team in the league. The end result of that sacrifice was on full display in the 2014 NBA Playoffs against the Miami Heat. Duncan has never complained about being the alpha superstar on his teams and certainly would have every right too. Duncan has been arguably the most successful superstar of his generation.
Kobe Bryant is a name fans will bring up, but even he flirted with the idea of leaving the Lakers more than once. He'll also be making close to $50 million over the next two years, not exactly the pay cut Dirk and Duncan have decided to take.
Nowitzki's sacrifice just gives the Mavs a chance to rebuild a legitimate contender, a process that requires at least a couple of big steps after he left around $17 million of cap space for Mark Cuban to spend this summer.
Dirk and Duncan are two of the most beloved superstars in their respective cities that anyone will be able to find across the league. The Mavs were able to reward Nowitzki the last time he took less money, but there's a lot of work remaining for the Mavs to reward Dirk's loyalty, as the Spurs did with Duncan.