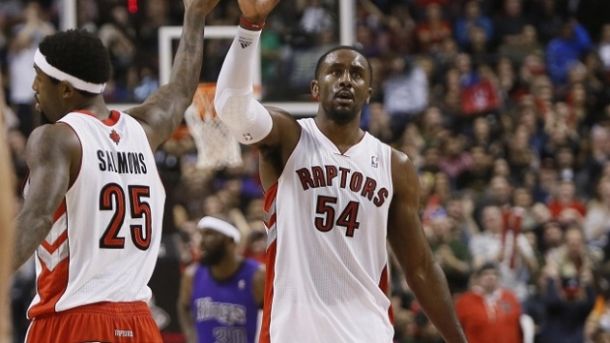 Patrick Patterson signed a three-year $18 million deal with the Toronto Raptors on Friday, according to a report by ESPN.
Patterson, the 14th overall pick in the 2010 NBA Draft, joined the Raptors as part of a trade that sent Rudy Gay, Quincy Acy, and Aaron Gray to the Sacramento Kings in exchange for Patterson, Grievis Vàsquez, John Salmons, and Chuck Hayes.
He played most of last season with Toronto, when he averaged 9.1 points, 5.1 rebounds, and shot 41% in 23 minutes of play off the bench last season. He will likely continue his limited role with the Raptors, unless an injury allows him more playing time.
Patterson got more money than was expected, but the Raptors have a big need for a big man who can shoot, making him an easy target. Patterson does struggle on the defense end which is why he played limited minutes for the Raptors last season. The big man will earn his pay check from the 3 point line where he shoots 36.8% in his career.
This may not be an exciting deal, but Patterson fills a need on their team, and should be a solid bench piece from the start.