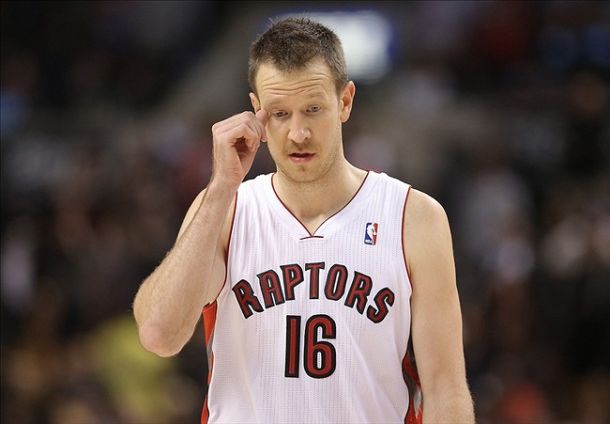 The Toronto Raptors have been the most active team this off-season thus far. First, they acquired Lou Williams, they then re-signed Kyle Lowry and Patrick Patterson, and now they make yet another trade. Steve Novak will go to the Utah Jazz as Toronto continues to dumb salary.
This is another brilliant move by Toronto's GM Masai Ujiri. He keeps exchanging unneeded pieces to clear cap space for better players. Steve Novak has two years, $7.2 million remaining on his contract. In addition to Novak, the Raptors will also send a future second-round pick to Utah. In exchange, the Raptors will take on Diante Garrett's $915,000 non-guaranteed deal for the 2014-2015 season.
Novak, 31, was rarely in the rotation for the Raptors. He showed up in 54 games and played limited minutes with averages of 3.3 points and 1.1 rebounds per game.
Utah will be the seventh team for Steve Novak. In his eighth year career he has played for the Houston Rockets, Los Angeles Clippers, Dallas Mavericks, San Antonio Spurs, New York Knicks, and Toronto Raptors.
The Raptors recently handed out a four-year, $48 million deal to Kyle Lowry and a three-year, $18 million deal to Patrick Patterson, so they are seeking cap room. Meanwhile, Utah is nearly $34 million under the salary cap and can afford to take on the extra salary.