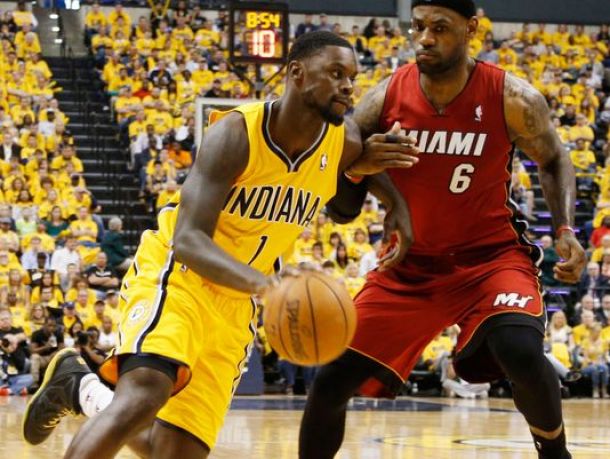 Lance Stephenson declined a four-year, $44 million offer from the Indiana Pacers earlier in the off-season. He is seeking at least $10 million yearly and has three teams interested in him; the Boston Celtics, Los Angeles Lakers, and Dallas Mavericks. The Pacers would like to have him back as well. Which team suits him best?
The Boston Celtics have a string of backcourt players already, including Rajon Rondo, Avery Bradley, and Marcus Smart. All three will see significant minutes in the rotation, so where does that leave Lance Stephenson? He would be part of a congested backcourt and have his playing time cut short. Boston does not appear to be an ideal destination for Stephenson.
The Dallas Mavericks recently re-signed Devin Harris and pulled off a trade to bring in Raymond Felton. Monta Ellis still remains on the roster, leaving yet again no room for another guard. Stephenson may see more minutes with the Mavericks than with the Celtics, but Dallas is stacked with guards who would be part of their rotation. Again, not a good place for Stephenson to reside.
The Los Angeles Lakers currently have three players on their roster with Kobe Bryant and Steve Nash being the only guards. Nash may see a reduced role while Kobe is recovering from serious injuries. The Lakers would have a spot for Stephenson. They can pay him $10 million annually and give him plenty of minutes. However, the Lakers may not be a good fit for Stephenson. With Kobe still running the show, Stephenson would have to play off the ball and become a spot up shooter. Lance's hustle and energy allows him to play off the ball, but he will not be capable of posing as a spot up shooter, meaning the Lakers are not well suited for Stephenson either.
That leaves Stephenson with his original team, the Indiana Pacers. There should be no reason for Stephenson to leave a team that made it to the conference finals. He fits in best with the Pacers due to Indiana's lack of ball handlers and play makers. Therefore, they desperately need Stephenson's ball handling and play making abilities. In addition, Indiana is the team that would provide him with major playing time, making them the best suitors for Lance Stephenson.
It's not quite understandable why the Celtics and Mavericks would pursue Lance Stephenson knowing they are crowded in the backcourt. The Lakers have some reason, but the Pacers would be the best place for Stephenson to reside. He has great chemistry with his Indiana teammates already. Stephenson will only need to work on his behavior to avoid conflicts and distractions for his team.