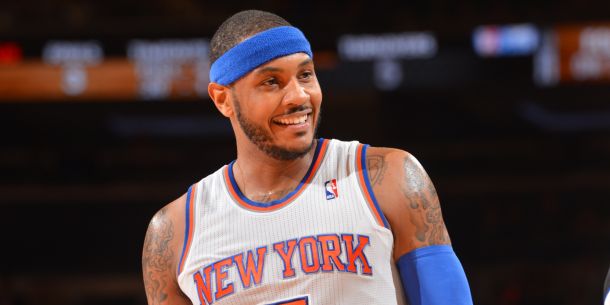 Frank Isola from the New York Daily News is reporting that Carmelo Anthony is expected to announce on Thursday that he'll be re-signing with the New York Knicks.
Anthony has been "agonizing" over his decision over the last couple weeks.
"He will have something for everybody on Thursday," said the friend who was with Anthony before his scheduled workout with Kevin Durant and Kevin Love in Los Angeles on Wednesday. "He is really torn because this is the biggest decision of his career. But he wants to get it done in New York. He told me he believes in Phil."
Anthony believes in Phil Jackson and is pleased with the acquisition of point guard Jose Calderon from the Mavericks. Jackson is also reported to heavily target Pau Gasol if Anthony re-signs with the Knicks Thursday.
Anthony loves being in New York and his family is comfortable living there, which has always been a big reason as to why he would stay. The hiring of Phil Jackson gives Carmelo assurance that Jackson will assemble a championship contending team around him for years to come.
Anthony believes in Jackson and new head coach Derek Fisher and wants to bring a championship to New York. Its also been speculated Carmelo will take a max deal in order to stay with the Knicks.
Carmelo Anthony could always have a last minute change of heart, but the Knicks organization are with the mindset he'll announce his intention to stay on Thursday.