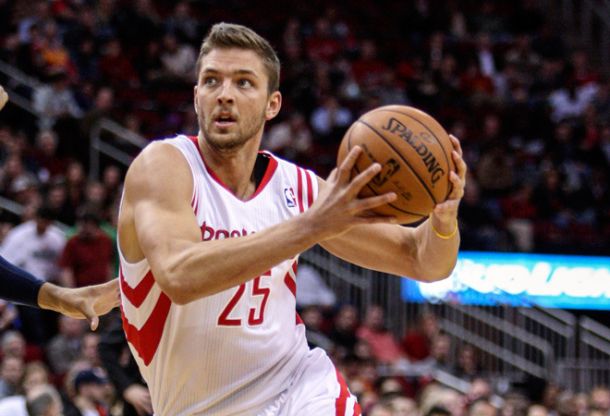 Restricted costless agent Chandler Parsons has agreed to sign a three-year, $45 million offer sheet with the Dallas Mavericks, reported first by ESPN's Marc Stein. Parsons will sign the contract on Thursday, and the Houston Rockets will then have three days to match the offer. The third year of Parsons' contract will be a player option. Additionally, Parsons will have a 15 percent trade kicker in his contract.
Parsons reportedly negotiated a deal with the Rockets throughout the day, but both sides were unable to reach an agreement. It's unclear whether Houston will match the offer, but their inability to come to an agreement on a deal indicates that they may not match and, instead, hope for Chris Bosh to join. In addition, the Rockets have been in contact with costless agents Luol Deng, Trevor Ariza, and Paul Pierce, according to Adrian Wojnarowski.
The Mavericks, on the other hand, gave up their pursuit of Carmelo Anthony and had been in contact with Parsons for the last few days. They have also shown interest in Deng.
This is a huge move by the Mavericks, who had been looking to shore up their small forward position. Parsons has improved his all-around game each and every year. He averaged 16.6 points, 5.5 rebounds, 4.0 assists, and 1.2 steals per game last season. Parsons really enjoys Dallas' up-tempo offense, which is one reason he will sign with them.
If Dallas are able to successfully obtain Parsons, they will then need to lock up Vince Carter and Shawn Marion for their bench. The Mavericks will still have nearly $2 million in cap room to work with if Parsons ends up with the team.
The Rockets are now left with an extremely tough decision to make and will likely wait until the last minute to decide on Parsons.