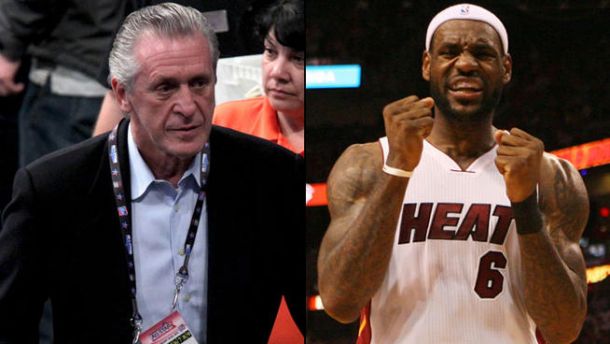 LeBron James met with Pat Riley and other Miami Heat officials for over an hour Wednesday afternoon in Las Vegas but left without having made a decision.
The Heat were represented at the meeting by president Pat Riley and general manager Andy Elisburg. James was joined by his agent, Rich Paul. This was the first known face-to-face meeting James has held since officially becoming a costless agent on July 1.
It seems as LeBron's meeting with Miami officials will be the only team meeting LeBron and his agent, Rich Paul, will conduct according to ESPN's Chris Broussard. LeBron is expected to talk things over with his family and has given no timetable as to when he may make his decision.
It seems everyone is waiting on LeBron's decision, most notably Miami costless-agent power forward Chris Bosh. There have been reports declaring that Bosh will leave to Houston if LeBron ends up leaving Miami, however, Bosh has stated those reports are false and he has made no such statement.
The Rockets may be the team most anxiously waiting on LeBron's decision, as their situation got more complicated Wednesday when the Dallas Mavericks and their restricted costless-agent agreed to a 3-year offer worth $46 million. The longer it takes for LeBron to make his decision the more pressure it'll put on the Rockets in regards to letting Parsons go.
It makes sense that LeBron will have no more further meetings with teams as it seems he has narrowed his choices between the Miami Heat and the Cleveland Cavaliers. James knows what both teams bring to the table and both can off a max deal. It'll come down to where LeBron feels he can win championships based on the supporting cast he has around him.
There's no timetable for LeBron's decision, but we can all expect a costless-agent signing frenzy once a decision is made.