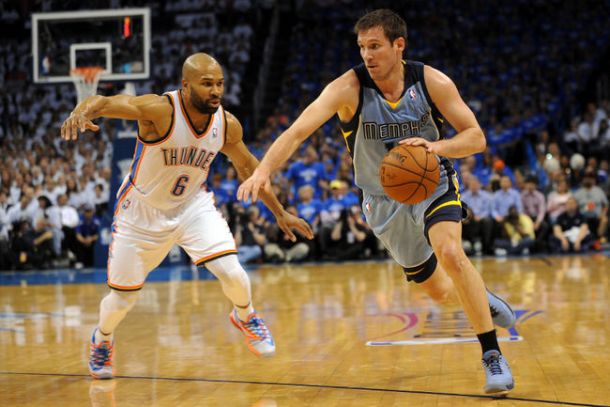 Beno Udrih has agreed on a two-year deal with the Memphis Grizzlies for the bi-annual exception of $4.2 million, ESPN's Marc Stein reports. The second year of Udrih's contract is partially guaranteed.
Udrih is coming off a strong playoff performance for the Grizzlies. After backup point guard Nick Calathes was suspended, Udrih took over his role and played well. He averaged 7.9 points, 1.7 assists, and 1.7 rebounds per game for the Grizzles in their seven game series against the Oklahoma City Thunder.
Udrih was waived by the New York Knicks mid-way through the season, and the Grizzlies signed him towards the end of the year. It is safe to say that the move paid off. With Udrih returning, he may permanently take the backup point guard role away from Calathes.
Udrih will be going into his eleventh season in the NBA. The 32-year old was a first-round draft pick (28th overall) by the San Antonio Spurs in 2004.