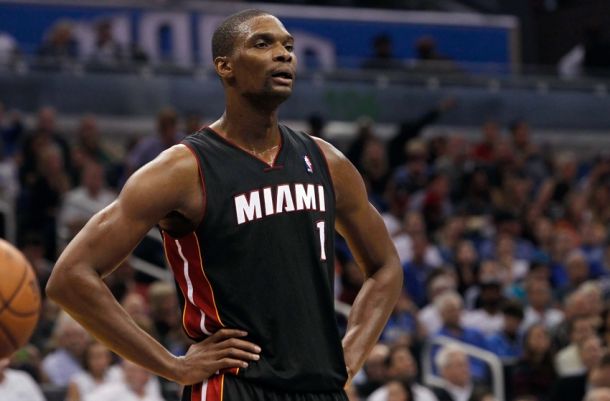 The suspense is over. NBA players can now move on. LeBron James will not return to the Miami Heat thus ending the big three era. Chris Bosh was waiting for his former frontcourt mate to make his decision before moving on with his. He received a favorable offer from the Houston Rockets worth $88 million for four years. With LeBron going to Cleveland, Bosh will take Houston's offer and create a big three in Houston.
Before reaching an agreement with Chris Bosh, the Houston Rockets have some work to do. First, they will have to make the Omer Asik trade official. Second, they will have to trade Jeremy Lin, in which the Philadelphia 76ers are top suitors for him and apparently the Los Angeles Lakers are also in play. Then they can finally sign Bosh. All this has to be done within 48 hours because the Houston Rockets would like to match Chandler Parsons' offer with the Dallas Mavericks.
The Rockets were weak, soft, and undersized at the power forward position last season. Terrence Jones did his best, but he was exposed by the LaMarcus Aldridge and the Portland Trail Blazers during the first-round of the playoffs. Adding Bosh will more than satisfy their needs at that position. A player like Bosh who can provide great floor spacing and shoot a high percentage from the field would be a terrific fit as a stretch four.
Being able to bring back Chandler Parsons will make them an elite team. Parsons continues to develop and grow as a player. His all-around game makes the Rockets a dangerous team. Most importantly, his length and athleticism at the three spot helps on the defensive end.
The Rockets are currently moving quickly with their pursuit of Bosh. However, if they are able to accomplish their grand plan, they will then need to work on their bench after.
Nevertheless, Houston is definitely fueling up. General manager Daryl Morey is doing everything possible to make the Rockets a contender. Last year's playoffs were a huge disappointment after a first-round halt to the Blazers. A starting lineup of Patrick Beverley, James Harden, Chandler Parsons, Chris Bosh, and Dwight Howard is more than intriguing.