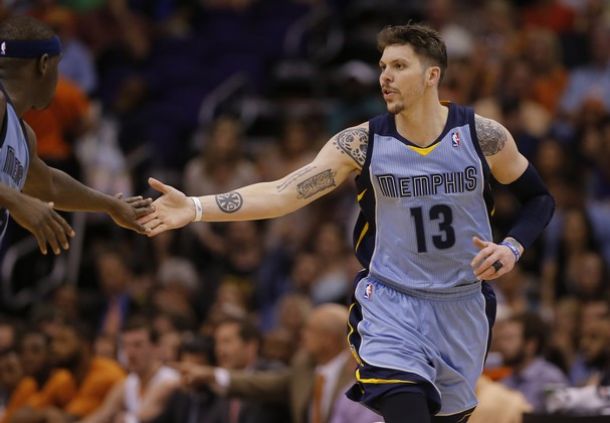 Unrestricted costless agent Mike Miller announced Friday night that he will not make a return to the Memphis Grizzlies next season.
The announcement came via Miller's Instagram account, where he said he was "Just informed that the Grizz are going in another direction." Miller thanked the Grizzlies fans and said that he will always love Memphis.
Miller played six seasons for the Grizzlies from 2002-2008, and won two championships with the Miami Heat before returning to Memphis for the 2013-14 season.
In his return to the Bluff City last season, Miller was a key part of a Grizzlies squad that won 50 games in the Western Conference and pushed the Oklahoma City Thunder to seven games in the first round of the playoffs.
Miller averaged 7.1 points per game, shooting 46 percent from beyond the arc and providing much-needed spacing in the Grizzlies offense. He also appeared in all 82 regular season games for the first time since his rookie season, and averaged 20.8 minutes per game, his highest mark since the 2009-10 season.
According to Memphis 92.9FM ESPN reporter John Martin who has been in contact with Miller throughout the costless agency process, Cleveland, Denver, Oklahoma City and Houston are competing for Miller's services going forward.
Cleveland appears to be the frontrunner for now. LeBron James and Miller are close friends and James has been vocal about wanting to reunite with his former Miami teammate.