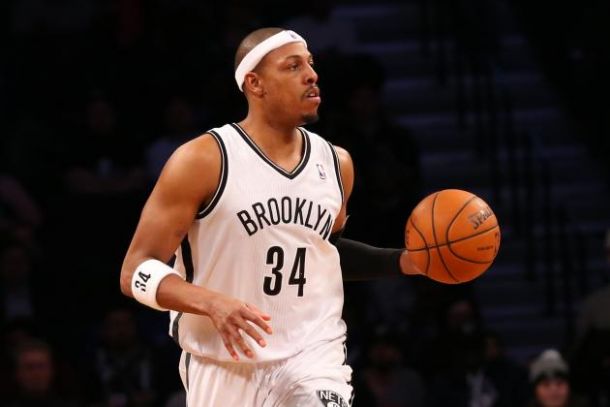 Paul Pierce shockingly agrees to a two year deal with the Washington Wizards for the full mid-level exception of $5.5 million per year, according to ESPN's Marc Stein. The second year of Pierce's contract includes a player option.
Pierce's tenure with the Brooklyn Nets ends after one year. The Wizards lost Trevor Ariza to the Houston Rockets earlier on Saturday. Therefore, the Wizards quickly turned their attention to Paul Pierce to fill the void.
The Nets passed on Pierce because they did not want to go $20 million over the luxury tax. The Los Angeles Clippers also had interest in Pierce but were seeking a sign-and-trade.
Pierce is a savvy veteran who could provide guidance to the young backcourt of the Wizards consisting of John Wall and Bradley Beal.
Pierce left the Boston Celtics last summer to join the Nets along with former frontcourt mate, Kevin Garnett. They were hoping to build a championship team in Brooklyn but failed miserably. With the core group in Brooklyn aging, Pierce figured that a young, talented team would suit him best.
Paul Pierce, in his 16th year in the league, averaged career-lows of 13.5 points and 2.4 assists. The 36-year old veteran figures to play a reduced role with the Wizards. His experience would help greatly with the inexperienced bunch that made it to the second-round of the playoffs last season and recorded 44 wins and 38 losses during the regular season.