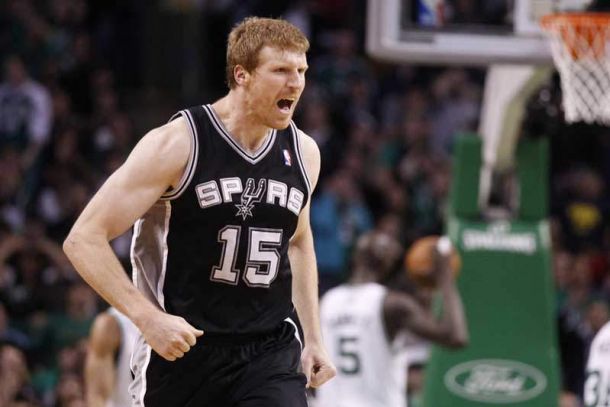 Matt Bonner has agreed to a 1-year extension with the San Antonio Spurs. The deal is worth the veterans minimum, according to Ben Hunt.
Matt Bonner will be back in a Spurs uniform next season for his 9th season. Bonner will earn $1.45M, but the Spurs are only responsible for $915,243 of that due to salary cap and luxury tax purposes.
Bringing back Bonner is a good move by the Spurs, as Bonner took a enormous pay cut from the $3.95M he made last season. Bonner's value to the Spurs has shrunk at age 34, as he is now used mostly as just a spot-up shooter deep in the Spurs rotation. However, there is certainly value in Bonner considering he is a career 41.7% three point shooter and is a fantastic leader to have around the team.
This will be Bonner's 11th season in the NBA. In 690 career games he has averaged 6.2 PPG and 3.2 RPG in 17 minutes of play and ranks 125th in NBA history with 736 3-point field goals.
The Spurs now brought back all the players of their championship team from last season and are determined to make another long playoff run in 2015.
All stats & numbers via Blake Murphy, TheScore.