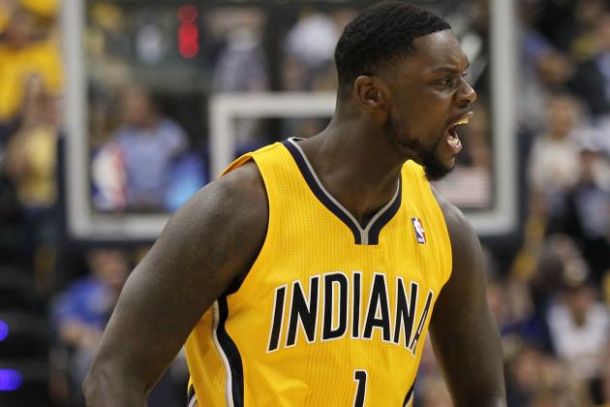 After a late night frenzy, the Indiana Pacers will lose guard Lance Stephenson to the Charlotte Hornets. Stephenson has agreed to a three-year, $27 million deal with the Hornets, according to Rick Bonnell of the Charlotte Observer. The third year of Stephenson's contract contains a team option.
Earlier in the off-season, the Pacers offered Stephenson a five-year, $44 million contract. He declined the offer, seeking $10 million per year. However, his new contract with Charlotte is only $500,000 more than what the Pacers offered.
It is completely shocking that Lance has accepted Charlotte's offer over Indiana's when the money difference is not too copious. Indiana has been a top team in the East ever since the development of Stephenson. He has been one of the main reasons behind their success. The Hornets, on the other hand, have had miserable seasons in the past but are presently improving.
Charlotte had one of its best years in recent history as they made it to the playoffs last season led by Al Jefferson. Stephenson can surely help this young Charlotte team climb. His defense, energy, and passion are unique. He can ball handle, play make, and grab rebounds extremely well for his size. Stephenson should easily aid the Hornets back into the playoffs.
The Hornets have been determined to improve their roster greatly this off-season. This is certainly an enormous move made by the front office. Their willingness to spend money this summer will make them a captivating team in the Eastern Conference.
Stephenson, 23, has been improving in each of his four years in the league. He averaged 13.8 points, 7.2 rebounds, and 4.6 assists on 49.1 percent shooting last season. The only concern the Hornets will have with Stephenson is his behavioral issues. Otherwise, they have acquired a major talent.