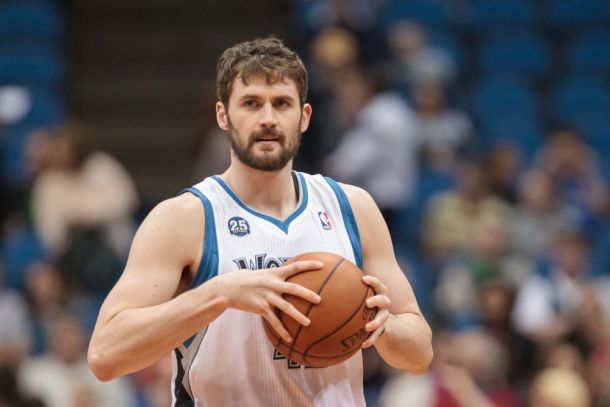 Do not look now, but Kevin Love to the Cleveland Cavaliers is becoming a real hot topic in the NBA. Ever since LeBron James announced he was signing with the Cavaliers on July 11th, trying to add Love to the mix seemed like an obvious move.
The only problem though, is that he can only be acquired via trade. When the two teams first discussed a possible trade, the Minnesota Timberwolves wanted number one overall pick, Andrew Wiggins. Wiggins, having a lot of potential, could help Minnesota rebuild their franchise and provide a spark. The Cavaliers however, were hesitant to get rid of their prized first pick. Well, at least at that point in time. The Cavaliers are now reportedly willing to include Wiggins in trade talks for Love.
Love is such a perfect fit for the Cavaliers. Not only is a stretch four who will space out the floor for James and PG Kyrie Irving, he is an incredible rebounder who also makes great outlet passes. Love getting the ball out quickly to James or Irving on the break could be deadly.
According to multiple sources, LeBron has made it clear that he wants to win another title, and although Wiggins has potential, Kevin Love would help the team out the most. LeBron has reached out to Kevin Love and expressed his desire to play together, this according to Adrian Wojnarowski of Yahoo Sports.
With Wiggins reportedly available, and James recruiting Love, this trade discussion is getting very realistic. Don't be surprised if these two teams come to a deal very soon.