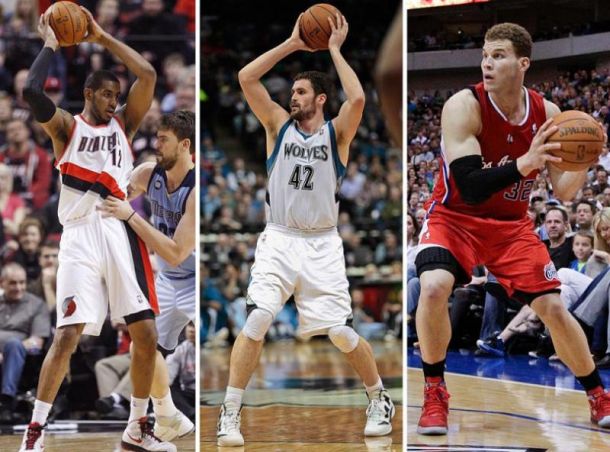 The power forward position is one of the deepest positions in the NBA with older future hall of famers mixed in with young talented future superstars in the making. While he does not make the cut here, it is worth noting that Tim Duncan deserves honorable mention, as the 'Big Fundamental' is arguably the best power forward in the history of the NBA. At the age of 38, Duncan is still as effective as ever as he and the Spurs look to add a sixth championship to their mantel. Now it is time to look at the top 5 power forwards in the NBA.
5. LaMarcus Aldridge:
2013-2014 Per-Game Stats: 36.2 minutes, 23.2 points, 11.1 rebounds, 2.6 assists, 0.9 steals, 1.0 blocks, .458/.822/.200 shooting, 21.84 PER
Although he was deserving much earlier in his career, LaMarcus Aldridge only managed to break through and gain All-Star recognition in 2012.
Portland prioritised handing Brandon Roy $85 million before turning to offering Aldridge a $65 million contract in 2009. Stuck behind Dirk Nowitzki, Duncan and Kevin Garnett for recognition as an elite Power Forward in the early stages of his career, LA then emerged, only to find himself behind the next generation of stars at his position in Kevin Love and Blake Griffin.
After Portland's front office refused to trade an unhappy Aldridge last summer, the stage was set; the time had come for Aldridge to step out from the shadows and be counted as a superstar. After 6 'vastly above-average but not quite great' seasons in the NBA, LaMarcus made sure his 7th saw him counted amongst the NBA's elite.
4. Dirk Nowitzki:
2013-2014 Per-Game Stats: 32.9 minutes, 21.7 points, 6.2 rebounds, 2.7 assists, 0.9 steals, 0.6 blocks, .497/.899/.398 shooting, 23.68 PER
Like Duncan, Nowitzki holds two career defining distinctions; firstly, as the undisputed top shooting big in basketball history, and latterly, as the greatest European basketball player ever. We all knew Dirk could shoot like no other; his legacy as the all-time great Maverick was set in stone. And then, he went and won a title, eclipsing Kobe Bryant, LeBron James and Kevin Durant on his way to becoming Finals MVP.
They may not match his sheer greatness, but there were those who came before Duncan; David Robinson, Karl Malone, Charles Barkley. These traditional Power Forwards possessed versatile offensive arsenals, but rarely ventured beyond 15 feet from the basket. Before Nowitzki? Well, no one. Dirk revolutionized the position, shooting with unprecedented accuracy from long range. Kevin Love, Aldridge and Ryan Anderson are all, to different extents, cut from the Nowitzki mold.
Returning from a knee surgery at the age of 35 and playing at the level Dirk has is nothing short of remarkable.
3. Anthony Davis:
2013-2014 Per-Game Stats: 36.1 minutes, 21.7 points, 10.0 rebounds, 1.6 assists, 1.3 steals, 2.8 blocks, .530/.788/.222 shooting, 27.2 PER
Davis' superstar potential was never in doubt, but no one expected his ascent to the top of the mountain to happen in this speed or manner. His incredible mobility, length (7'6' wingspan) and athleticism are allowing Davis to morph into the NBA's next transcendent two-way talent as he leads the league in blocks per game and is third amongst Power Forwards in steals.
Davis has been outstanding this summer with Team USA thus far and it is not hard to fathom Davis being a top 5 player in the league in the next couple seasons.
Love and Griffin may be ranked ahead of Davis for now, but it will not be long before the shot-swatting Pelican knocks them off their perch.
2. Blake Griffin:
2013-2014 Per-Game Stats: 36.2 minutes, 24.4 points, 9.7 rebounds, 3.7 assists, 1.1 steals, .532/.704/.273 shooting, 23.8 PER
Blake has, in the past, been criticised as a one dimensional player who does not possess an elite offensive skill set. His early reputation was built upon his freakish athletic antics and countless posterising dunks. Despite putting up incredible numbers across the board since his rookie season, Griffin has only this season come into his own and established a reputation as a legitimate two way player.
1. Kevin Love:
2013-2014 Per-Game Stats: 36.5 minutes, 26.7 points, 12.7 rebounds, 4.3 assists, 0.9 steals, 0.5 blocks .463/.818/.376 shooting, 28.1 PER
It is easy to see the potential for super stardom in players like Griffin and Davis; freakish athleticism, menacing court presence and prototype bodies. Coming into his rookie season, you could have been forgiven for projecting Love as a solid rotation player; coming out of UCLA he was highly regarded for his rebounding and excellent outlet passes. He certainly didn't project as the elite scorer and knock down shooter he has become.
Love's remarkably unique and versatile skill set separates him from every other PF in the league; unmatched strength and innate court sense make him the league's most able rebounder and outlet passer. His smooth shooting stroke allow him to light it up from beyond the arc like an elite shooting guard.
Kevin Love is the ultimate modern power forward and is currently the best in the business.