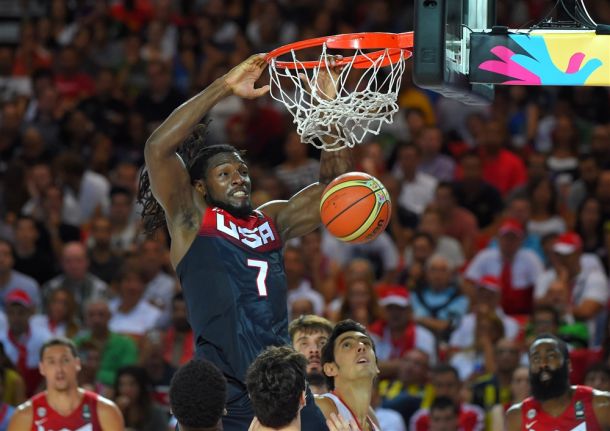 After breezing past Finland in a 114-55 shellacking on Saturday, Team USA had a tougher time against Turkey on Sunday.
At the end of the first quarter, the game was tied at 16 apiece. Turkey's size was giving USA some early problems. Moreover, USA was extremely sloppy as they turned the ball over seven times in the opening period. Omer Asik gobbled down six first quarter rebounds and was defending the paint nicely for Turkey.
The second quarter was much of the same. USA was unable to shake off the Turks. In fact, Turkey was executing adequately on the offensive end, using dribble penetrations and pick and rolls to find easy buckets, and took a five-point lead into halftime. For USA, Kenneth Faried and DeMarcus Cousins were keeping the team alive as they scored eight points each in the first half.
Turkey came out sizzling hot from downtown in the third quarter, hitting five out of six triples, and held on to their small lead early in the half. However, Faried continued to put his finger prints all over the game with his hustle and energy. The turning point came when Faried completed a one-handed alley-oop dunk in transition. USA finally took a six point lead to end the third quarter.
In the fourth, USA put their clamps down on defense and started to force more turnovers. They outscored Turkey 32-17 in the fourth and won by 21 points. Turkey finished the game with 28 turnovers which led to 30 US points off those giveaways.
Faried led the pact with 22 points and 8 rebounds. Anthony Davis heated up late in the game and finished with 19 points. James Harden scored 14 points and dished out 7 assists.
Turkey had balanced scoring led by the 12 points of Cenk Akyol. Their 27-year old big man Oguz Savas was playing terrific in the paint as he chipped in with 9 points. Asik finished the game with 6 points, 8 rebounds, and 3 blocks.
USA certainly struggled on defense for the most part of this game, but was still able to win by a score of 98-77 and improve to a perfect 2 and 0. Turkey gave team USA plenty of trouble, but will now fall to 1-1 in the tournament.
USA will get a one-day break, but will be back in action September 2nd against New Zealand at 11:30 am Eastern Time.
Turkey will also receive a one-day rest and will play Ukraine, 9 am Eastern Time.