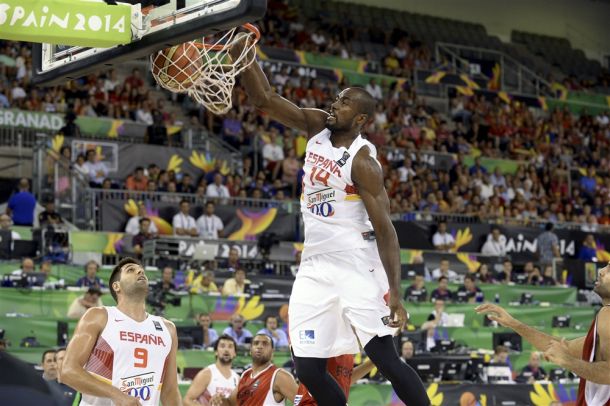 Unlike Team USA, Spain had a much easier time with their matchup on Sunday. They played Egypt and beat them down by 37 points.
Spain jumped on Egypt early, taking a 17-2 lead and finishing the first quarter up with a 16 point advantage. Serge Ibaka, who did not play in Spain's first game due to a hamstring injury, checked into this game at the 2:21 mark of the first quarter and received a huge standing ovation including "Ibaka" chants from the home crowd.
Ibaka immediately grabbed three rebounds and slammed down his first two points off of Ricky Rubio's missed layup all under one minute of play.
Spain's interior defense continued to get the job done in the second quarter as the Spaniards took a 42 to 24 lead into halftime.
The dominance continued for Spain in the second half as they outscored Egypt by 9 in the third quarter. The lead ballooned to 27. Spain was moving the ball around nicely and was finding quality offense using pick and rolls. They were also forcing turnovers and converting them into points in the fast break.
Spain ended the game with 33 points off turnovers. They outscored Egypt in all four quarters of the game to win with a final score of 91-54.
Serge Ibaka was impressive in his return as he had 18 points and grabbed 8 rebounds. Rudy Fernandez had another solid game as he put in 14 points. Pau Gasol, who scored 33 points on Saturday, only added 12 against Egypt. His brother Marc Gasol was quite, only scoring 8 points.
Egypt only had one player in double figures, and that was Ibrahim Elgammal who scored 16 points.
Spain's wonderful defense held Egypt to 33.8 percent shooting from the field. On the opposite end of the floor, Spain shot 49.3 percent.
Spain looks to remain undefeated in their next game tomorrow, September 1st, at 4 pm Eastern Time against a tougher Brazil team.
Meanwhile, Egypt will be seeking for their first win on the same day against France at 12 pm Eastern Time.