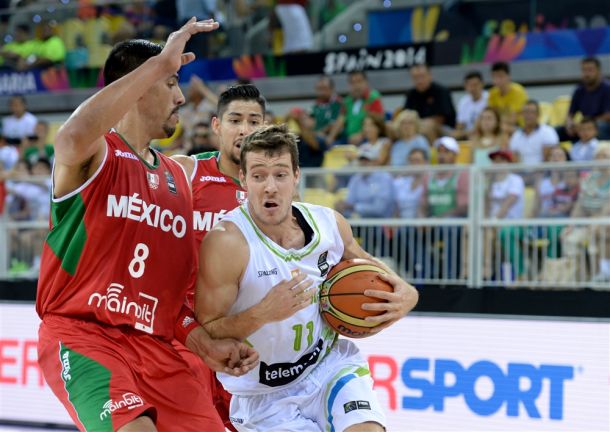 After a terrific win against Australia on Saturday, Slovenia looked to remain undefeated on Sunday as they squared off against Mexico.
Slovenia jumped on Mexico right from the start, taking a quick 12-0 lead led by Zoran Dragic. Mexico did close the gap at the end of the first quarter as they cut Slovenia's lead down to 6.
During the second quarter, Mexico knotted the game at 26 at the eight minute mark. However, Slovenia separated itself later in the quarter to earn a 9-point halftime lead, 46 to 37.
There was not much offense played in the beginning of the third quarter. Both teams were a bit sloppy and cold from the field. Though, it was Slovenia's 7-foot big man, Alen Omic, who did some of the scoring in the quarter.
The fourth and final period was jump started by the Dragic brothers, who had the team's first 9 points of the quarter. Slovenia's impressive three-point shooting is what ultimately iced the game. Slovenia came out on top 89-68.
Both teams shot incredibly well from the field with Slovenia hitting 60.4 percent of their shots, and Mexico connecting on 55.3 percent of theirs. The difference, as previously stated, came from the three-point range. Slovenia knocked down 10 triples on 47.6 percent shooting.
Zoran Dragic was a perfect 4-4 from that range and finished with a team-high 22 points. Goran Dragic added 18 points and handed out 6 assists.
For Mexico, NBA costless agent Gustavo Ayon executed a perfect game going 9 of 9 from the field and totaling for 23 points. However, that was not enough for them to beat the Slovenians.
Slovenia looks to add on to their two game winning streak on Tuesday against Korea at 1 pm Eastern Time.
Mexico will be back in action on Tuesday as well in a matchup against Angola at 6:30 am Eastern Time.