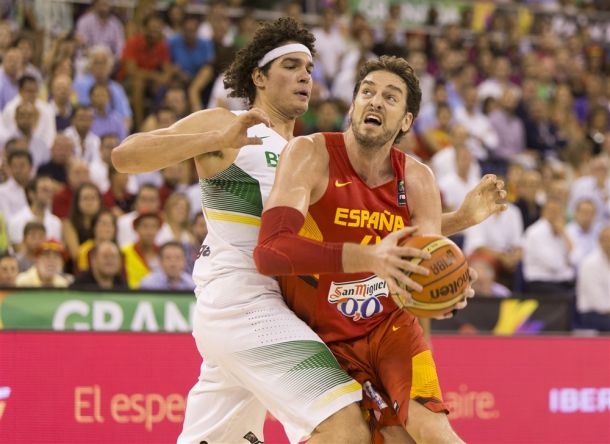 When Spain and Brazil were scheduled to play on Monday, September 1st, everyone thought that the game would be close and hard fought. That was not the case as Spain cruised to a 19-point victory.
Spain once again jumped on their opponent early in the game and took a 16-point first quarter lead behind Pau Gasol's 12 points on 86 percent shooting. Pau also added 2 blocks in the quarter. Juan Carlos Navarro and Rudy Fernandez contributed as well, scoring 7 and 6 points respectively.
However, in the second quarter, Brazil remained in striking distance as Leandro Barbosa came alive a bit. Though, Spain continued to protect the paint, holding Brazil to only 37.5 percent shooting from that area in the quarter. Spain took a 13-point lead into halftime.
Pau Gasol resumed his dominance in the third quarter, where he knocked down three straight triples to put the game out of reach and had the home crowd chanting his name. Gasol shot an efficient 80 percent from the field in this period and gave Spain their biggest lead of 23.
With a large lead heading into the fourth, Spain plugged in some of their bench unit to finish out the game. Sergio Rodriquez made all three of his shot attempts in the final quarter, and Sergio Llull provided energy on both ends of the floor to close out the Brazilians and win with a final score of 82-63.
After a quite game on Sunday, Pau Gasol was magnificent on Monday, scoring 26 points, snatching 9 rebounds, rejecting 3 shots, and shooting an efficient 11-15 from the field, including three from downtown. Additionally, he was hustling and playing with a great amount of energy on both ends. Rodriguez added 12 points off the bench, and Navarro chipped in with 10.
Brazil was led by Leandro Barbosa's 11 points. Varejao put in 10, but Nene and Splitter struggled, having only 7 and 6 points correspondingly on 2 of 7 shooting for each. Brazil's poor costless throw shooting was also troublesome. They went 8 of 15 from the line, good for 53 percent.
Spain was scorching hot from three-point distance. They made 46 percent of their threes. Spain also shot 51 percent from the field compared to Brazil's 41 percent. Both Brazil and Spain were clean in this game, having only 6 and 10 turnovers respectively. However, Spain's ball movement was elegant as they had 17 team assists as opposed to Brazil's 7. Spain led all but 14 seconds of this game.
Both teams will receive one day of rest and resume action on Wednesday, September 3rd. Brazil will clash with Serbia at 12 pm Eastern Time, while Spain will look to stay perfect against France at 4 pm Eastern Time.