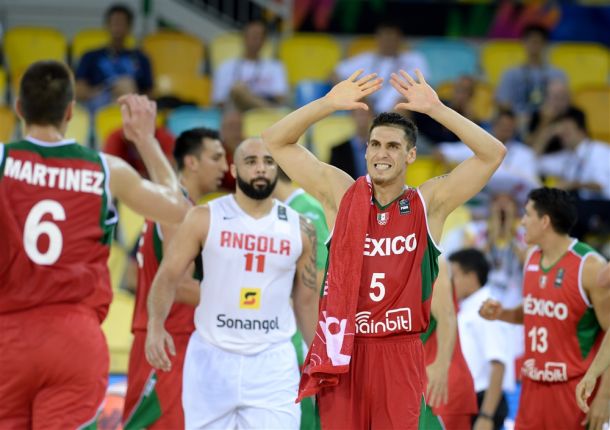 On Tuesday, Angolan national team looked to destroy the Mexicans, but the Mexicans came out all-guns-blazing in the second half to win the game.
Mexico was led by Gustavo Ayon who had a Double-Double with 17 points and 12 rebounds. Yanick Moreira was Angola's best player for the day.
In the first period, the Mexico started the game on a 4-0 run but eventually lost the lead. It was a low scoring quarter until the the game clock struck 05:00 minutes. The Angolans then jumped on to a 12-7 lead by making two quick shots. At the end of the period, Angolans lead 20-15.
Mexico started the 2nd quarter on a high note with Martinez draining one from downtown in the opening minutes. The Mexicans then tied the game at 27 points a piece and then dropped in seven more points in the next two and a half minutes to take a commanding 34-27 lead. Mexico outscored Angola 21-15 in the period to take a 36-35 Half-Time Lead.
In the second half, it was all Mexico. The Angolans struggled badly at both ends of the floor. Mexico scored 21 and 22 points in the third and fourth quarter respectively while Angola could just score 10 points each in the third and fourth quarter. Mexico won the game by 24 points.
Mexico shot 46.9% from Mid-Range and an impressive 46.2% from beyond the arc. Angola struggled at perimeter shooting making just 14.8% of their shots. Mexico also beat Angola at the charity stripe by making 92.9% of their Costless Throws. Interestingly, Angola grabbed 21 offensive boards today but couldn't convert a majority of them. Mexico could just grab 10. Mexico's Hernandez lead all scorers with 24 points. He shot 6/10 from beyond the arc. Cruz dropped in another 14 points.
Mexico plays next on Wednesday against Australia at 7:30 am EST. Angola takes on an undefeated Slovenia tomorrow at 11:30 am EST.