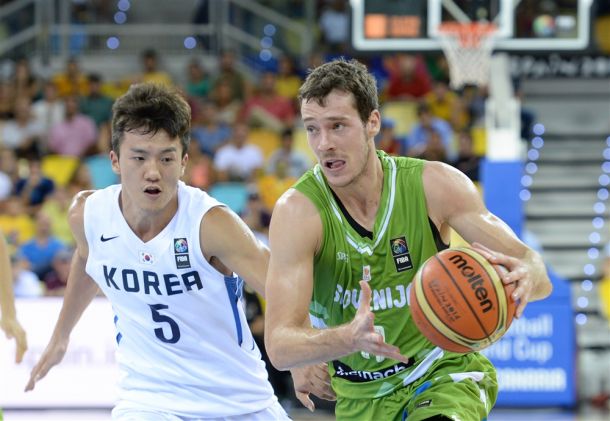 After a dominant victory over Mexico on Sunday, Slovenia remains undefeated after beating Korea on Tuesday with a final score of 89-72.
The first quarter was evenly played, with Korea only leading by 2 points to end the quarter. The Koreans were led by Jonghyun Lee and Taejong Moon, who scored 6 points each in the period. Zoran Dragic, who played really well last game for Slovenia, came out misfiring on all three of his first quarter attempts. Fortunately, Zoran's teammates picked it up for him.
The second quarter was closely played as well. This time Slovenia won the quarter by 3 and carried just a one point lead into halftime. Goran Dragic led the way for the Slovenians at the half with 10 points on an efficient 5 of 7 shooting.
The second half was a different story. Slovenia came out sizzling from the field, knocking down 11 of their 16 shot attempts. The Slovenians outscored the Koreans by 13 in the third period to extend their lead to 14 heading into the fourth quarter.
During the final period, Slovenia grew their lead to 18 midway through the quarter after a Zoran Dragic three. They eventually captured their biggest lead of 20. Slovenia dropped in five triples in this quarter and finished off the Koreans with a 17-point victory.
Slovenia was led by Goran Dragic's 22 points on 71.4 percent shooting, followed by Domen Lorbek's 14. Zoran Dragic and Alen Omic each added 13 points. Omic had 11 rebounds as well.
Jonghyun Lee led Korea in scoring with 12. However, no one else scored more than 8 points for Korea.
Korea did get plenty of bench production as their bench outscored Slovenia's by 25 points. Both team remained clean throughout the contest as Korea had 12 turnovers, and Slovenia only had 9. The difference was points off turnovers. Slovenia capitalized on almost all of Korea's turnovers, scoring 22 points off giveaways, while Korea only scored 8. As a result, Slovenia pushed in 16 fast break points to Korea's 2.
Korea had stellar rim protection in this game, as they rejected 8 shots – four of them by Lee. However, that was not enough to stop Slovenia, who shot 49.3 percent from the field.
Both teams will be back in action on Wednesday, September 3rd. Korea, who dropped to 0-3 in the tournament, will face off against Lithuania at 2 pm Eastern Time. Slovenia will look to remain undefeated against Angola at 11:30 am Eastern Time.