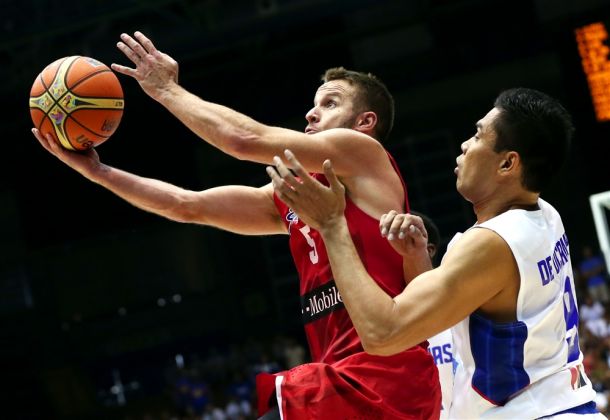 On Wednesday, Puerto Rico beat Philippines 77-73 in a closely contested game. Puerto Rico was led by their Point Guard J.J, Barea with 30 points. Andray Blatche had a double-double for the Filipinos with 25 points and 14 rebounds.
In the first quarter, Puerto Rico started the game with 2 three-pointers, getting a 6-0 lead. After that, Andray Blatche was doing everything - blocking shots, grabbing offensive boards, and scoring. He cut the lead to 1 point, as the score was 8-7 in favor of Puerto Rico. The game was then tied at 13 points a piece. Filipinos dismantled Puerto Rico in the remaining of the first quarter, ending the first 10 minutes holding a strong 25-13 lead.
Puerto Rico came out big in the second quarter, outscoring the Filipinos 26-19. J.J Barea came alive in the second quarter scoring 9 points, 2 assists, 1 steal, and 1 rebound. Filipinos still held the lead 44-39 at halftime.
In the third quarter, Puerto Rico carried over the second quarter spurt and outscored Filipinos 22-13. J.J Barea was again big for Puerto Rico and so was Andray Blatche for Philippines.
The fourth quarter was same for both teams with each team scoring 16 points. Puerto Rico won the game 77-73. This was the Puerto Ricans first win of the tournament.
The Filipinos shot 62% from mid range and 21% from beyond the arc. Puerto Rico dropped in 42% of their shots from downtown and 38% from mid range. Paul Dalistan and Lewis Tenorio were the two other players who scored in double-figures for the Philippines, pouring in 10 and 18 points respectively. For Puerto Rico, Ricky Sanchez and David Huertas scored 13 points each.
The Philippines will close out the tournament on Thursday with a game against Senegal. Puerto Rico will face Croatia in their final game on Thursday.