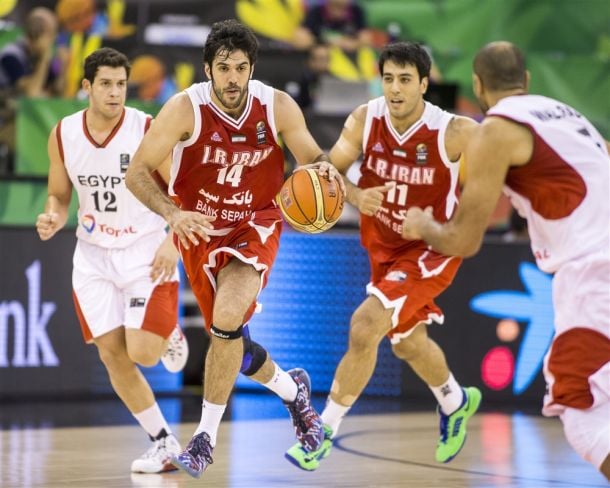 Iran jumped out to a 15-4 lead halfway through the first quarter and never looked back, as they defeated Egypt 88-73 on Wednesday. Samad Nikkhah Bahrami of Iran led the way with 24 points and 3 rebounds while teammate Hamed Haddadi finished with 23 points and 15 rebounds.
Samad Nikkhah Bahrami started strong with 10 points in the first quarter. His three pointer just 2:24 into the game gave Iran a 10-0 lead. Egypt got their feet back and cut the deficit to 15-7 halfway through the first quarter. Both teams continued to trade points for the rest of the quarter, which finished with Iran having a 27-15 lead.
Mouhanad Elsabagh had his best quarter of the game with 8 points during the second frame. Egypt cut the deficit down to 32-26, which prompted Iran to take a timeout. As the second quarter came to a close, Egypt made an 8-0 run to cut Iran's lead to 43-41. Iran responded by finishing the quarter on a small 5-0 run to take a 48-41 lead into halftime.
The third quarter was quite even as Egypt scored 15 points in the quarter compared to Iran's 16 points. Iran stretched their lead to 59-46 at the halfway point of the quarter, but Egypt continued to chip away and only trailed by 8 points at 64-56 after the first 30 minutes. Egypt's Ibrahim Elgammal made the final six points of the quarter for his team.
Iran pulled away in the early part of the final quarter as Egypt went cold from the floor. At the 7:18 mark, Iran held a 74-60 lead with Hamed Haddadi getting five of Iran's 10 points. Iran stretched their lead to 82-64 with 3:44 remaining and the teams continued to trade buckets as the game finished 88-73 with Iran getting the victory.
Three Egypt players, Youssef Shousha (15), Mouhanad Elsabagh (13), and Ibrahim Elgammal (10), recorded double digits in points. Haytham Kamal led Egypt with 5 rebounds while 6 others Egypt players recorded at least 3 rebounds. The Egyptians shot 41.7% from the floor (25 of 60) and 31.8% from behind the 3 point line (7 of 22). Egypt went 16 of 22 (72.7%) from the costless throw line.
The Iranians got a huge three point performance from Bahrami. He went 6 of 9 (67%) behind the arc and finished 9 of 15 (60%) from the floor. In addition to Bahrami's 24 points and Haddadi's 24 points, Oshin Sahakina (14) and Hamed Afagh (12) also scored in double figures. Iran shot 50% from the floor (35 of 70) and 43.5% from behind the arc (10 of 23). Iran shot 72.7% from the costless throw line (8 of 11) while having half as many chances as Egypt.
Iran will face France on Thursday in their final Group A preliminary game. Egypt will take on Brazil having already been eliminated from making the Round of 16.