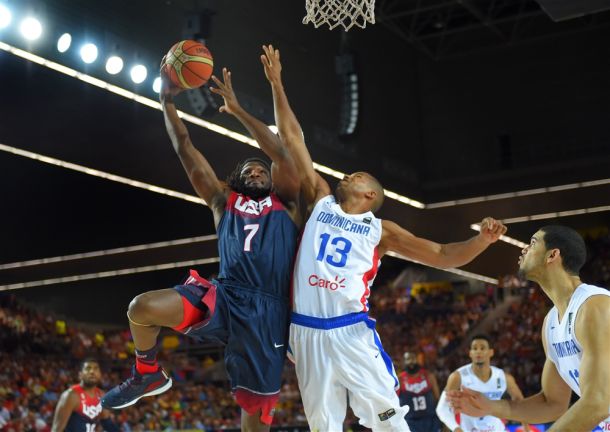 Team USA looked to stay undefeated heading into its game against Dominican Republic. They did just that against a Dominican team that was without its best player Francisco Garcia (ankle), beating them 106-71.
The first quarter was played rather evenly. Dominican Republic was hanging in there while USA was playing some lackadaisical defense. Jack Martinez put up 10 quick points at the end of the first quarter and early second quarter. Dominican Republic was only down 3 at the end of one.
In the beginning of the second quarter, both teams were exchanging buckets, until Kenneth Faried came alive midway through the period, scoring six straight points for USA at one point. Faried was hustling up and down the court as usual. He was playing strong defense on one end and running back on offense on the other. Rudy Gay put in a bank shot jumper at the end of the half to give USA its biggest lead of 15 going into the locker rooms.
The Dominicans were still within striking distance, but the game started to slowly blow wide open in the third as USA put its clamps on defense. Late in the third and early in the fourth, USA went on a 22-0 run and opened up a 92-52 lead, which would be its biggest of the game.
USA held on to its lead throughout the fourth quarter to win by 35 points. The fourth quarter was capped off by a few highlight plays by USA, including a couple of alley-oop jams by Andre Drummond and an emphatic dunk by Mason Plumlee.
Everyone on Team USA scored, led by Kenneth Faried's 16 points and 6 rebounds. DeMarcus Cousins was a perfect 5 of 5 from the field, with 13 points and 6 steals. DeMar DeRozan got the opportunity to play plenty of minutes in this game, and put in 11 off the bench. James Harden and Anthony Davis each scored 10 points. Meanwhile, Stephen Curry flirted with a triple-double with 8 points, 7 assists, and 6 rebounds.
For the Dominicans, without their leading scorer Garcia, Victor Liz led the pack with his 15 points. Jack Martinez remained with the 10 points he had in the first half while Edward Santana chipped in with 11.
USA shot an efficient 56.4 percent from the field, while Dominican Republic shot just 39.4 percent. USA held the Dominicans to 30 points in the second half and forced them to 26 total turnovers. USA continued to be sloppy as well with 16 turnovers of its own. Points in the paint were dominated by USA as they scored 66 points from that area as opposed to Dominican Republic's 28.
USA also had 8 blocks as a team, 5 by Anthony Davis, compared to Dominican Republic's 1 lonely shot block. Once again, Team USA led wire-to-wire in yet another victory. They have now clinched Group C with their perfect 4-0 record.
Team USA will play its final game of the group stages against Ukraine at 11:30 am Eastern Time on September 4.
Dominican Republic will face off against Turkey for its final game at 3:30 pm Eastern Time on Thursday, September 4th.