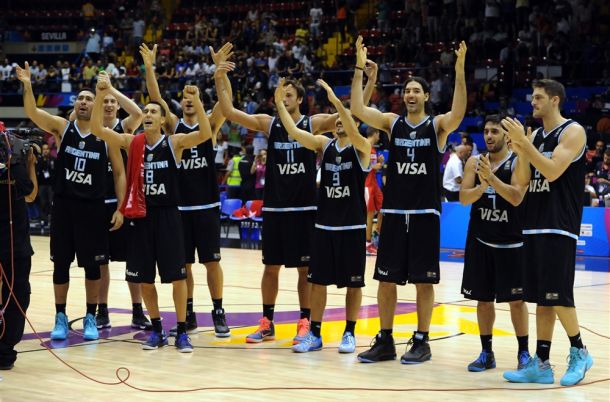 After a win against Philippines on Monday, Argentina defeated Senegal 81-46 in the group stages of the 2014 FIBA World Cup in Spain.
Argentina managed to hold Senegal to less than 20 points in every quarter. Senegal only managed to score 8 points in the fourth and final period. Senegal did not have much luck on defense as Argentina scored 20 or more points in 3 out of 4 quarters. Argentina scored almost 30 points in the final quarter.
Argentina was led by current Indian Pacer Luis Scola, who recorded a double-double with 22 points and 14 rebounds. Former Detroit Piston Walter Herrmann contributed for Argentina by adding 11 points, while current New York Knick Pablo Prigioni contributed 10 points.
Senegal was led by Gorgui Dieng who had 11 points, while Xane Dalmeida added 9 points in the blowout loss. Only one player on Senegal had double digit scoring.
Senegal shot a subpar 32 percent from the field and only 8 percent from three-point distance. Senegal had a horrible shooting outing as they made just 1 out of 12 three pointers. Senegal and its poor shooting is what cost them the game, and its defense was less than stellar as well. Senegal shot 75 percent from the costless throw line.
Argentina, on the other hand, made 45 percent of its shots, including 42 percent from three-point land. Argentina had a decent shooting night, but it was its defense that helped them destroy Senegal. Argetina shot an efficient 91 percent from the costless throw line.
Senegal will look to redeem itself from this loss as they play Philippines next on September 4 at 8 am Eastern Time.
Argentina will look to earn another victory as they will play Greece on the same day at 4 pm Eastern Time.