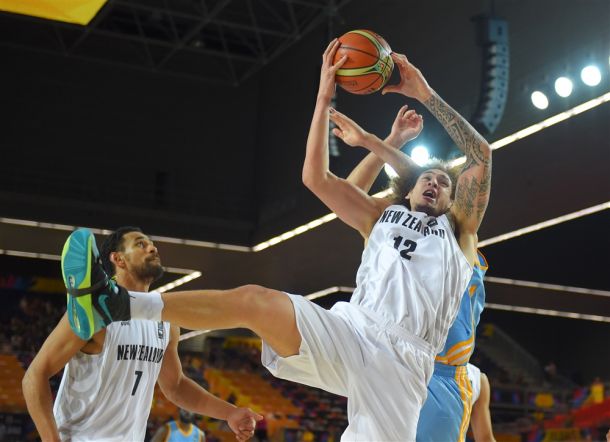 After somewhat of a fairytale beginning to this year's FIBA World Championships, 48th ranked Ukraine lost their second game, this time at the hands of the underperforming New Zealand. The Tall Blacks, who were 0-3, were placed in a must win position if they were to have any chance of advancing to the knockout stages.

It was a tight first quarter with Ukraine taking an early lead and finally finishing ahead 18-19. This was helped largely in part to Maxym Kornienko, who finished the contest with a game-high 15 points.
The Tall Blacks turned up the defensive intensity in the second quarter, restricting Ukraine to just 11 points. The defensive pressure by the Kiwi's was shown by Ukraine shooting just 38 percent from the field for the match. The halftime score saw New Zealand ahead 36-30.
As the second half continued, it remained a close encounter with neither team able to create a substantial lead. New Zealand's aggressive play saw them dominate on the boards, ultimately out-rebounding Ukraine 48-25. This was led by big man Issac Fotu, who finished with a double double of 10 points and 10 rebounds. Heading into the final frame, the game was still in the balance at 53-45 in favor of the Tall Blacks.

After blowing games with two horrific fourth quarters in their first two games, the New Zealand was looking to redeem itself by closing this one out in an efficient and clinical manner. To the delight of New Zealander's around the world, they did just that. They put the game away with a 20-16 final quarter, sealing the match 73-61 and grabbing its first win of the tournament.
New Zealand will move on to play Finland in its final game of the group stages tomorrow, September 4th, at 9 am Eastern Time.
Ukraine will play against the undefeated United States tomorrow at 11:30 am Eastern Time.