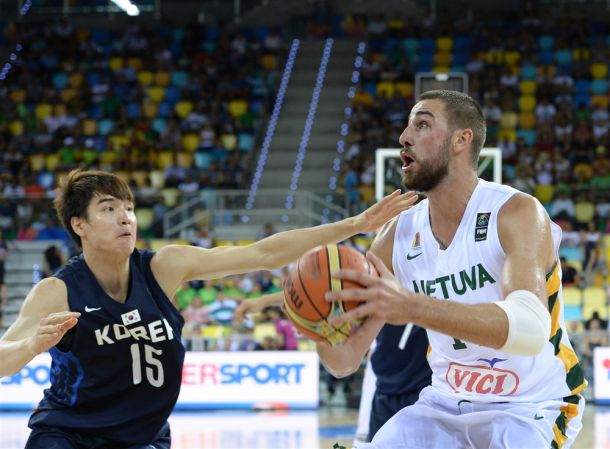 Lithuania defeated Korea 70-49 in the group stages of the 2014 FIBA World Cup in Spain.
Lithuania managed to outscore Korea in every quarter other than the first. Lithuania showed impressive defense as they held Korea to under 20 points in every quarter. In the third quarter, Korea managed to only score 4 points. Lithuania's mix of good scoring and impressive defesnse is what helped them come out victorious.
Lithuania was led by guard Adas Juskevicius, who scored 20 points, while current Houston Rockets center Donatas Motiejunas contributed in the win with 18 points. Current Toronto Raptor Jonas Valanciunas added 12 points.
Korea was led by Taejong Moon who scored 15 points, while Jongkyu Kim added 12 points in the loss to Lithuania.
Korea shot 45 percent, 14-31, from two-point range and only 24 percent, 4-17, from three-point area. Korea can blame its loss on its poor shooting from the field and mediocre defense. As previously noted, Korea just scored 4 points in the third quarter of the game.
Lithuania shot 48.6 percent from the field, including 42 percent from three-point distance. Lithuania shot well from the field, but it was its strong, suffocating defense that helped them seal the win over the Koreans in a blowout fashion.
Lithuania will look to earn their fourth victory when they play Slovenia tomorrow, September 4th, at 3:30 pm Eastern Time.
Korea is still seeking for its first victory as they will have one final chance tomorrow against Mexico at 11:30 am Eastern Time.