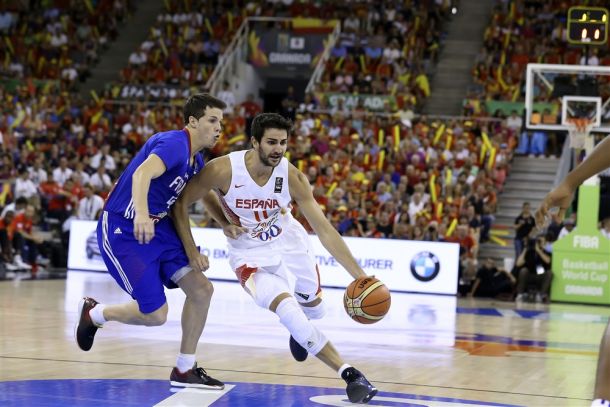 After coming off a convincing victory two days ago against the Egypt, France fell to Spain 88-64 Wednesday night.
While France came out to a hot start and ended the first quarter trailing 19-22, Spain managed to lock down and take care of business on their home court. With a lineup consisting of brothers Marc and Pau Gasol, Juan Carlos Navarro, Rudy Fernandez and Ricky Rubio, it's difficult to compete. Both Marc and Pau Gasol scored in the double-digits, Marc ended the game with 17 points on 6-of-9 shooting while older brother Pau finished with 14 on 5-of-9 shooting.
The second quarter showed the Spaniards start to take control of this game, outscoring their French foes 22-15. Nicolas Batum was the high scorer from the French starters, pouring in 11 points, two rebounds, and one steal. No one else on the starting five for the French could manage double-digits, and that alone put them behind in this one.
Quarter number three saw the French get outscored 21-16. Serge Ibaka scored 10 off the bench for Spain, while Antoine Diot was the high man off the bench for the French with 11. The fourth quarter was much of the same, the Spaniards put the game away by scoring points 23 to France's 14. By shooting only 38.6% to Spain's 50.8%, the French made it more difficult on themselves to claw back into this game. Their 13 turnovers as opposed to Spain's seven hurt them immensely as well.
Neither team was great shooting the three ball, Spain went 6-for-23 for 26.1%, while France didn't do themselves any favors and was 5-for-25 from three for 20%. Spain's five blocks also made a big difference for the French, having both Gasol brothers under the basket makes it harder to score in the paint.
France plays again Thursday, September fourth at 12:00 PM ET against Iran, while Spain plays later that same day at 4:00 PM ET against Serbia.